The Ninth BRICS Summit was held in Xiamen, China from Sep. 3 to Sep. 5. Invited by Fujian Provincial Department of Environmental Protection and Xiamen Environmental Monitoring Station, Anhui Institute of Optics and Fine Mechanics (AIOFM) participated this air quality assurance action.
Aiming at ozone transmission in the late summer during the event, AIOFM firstly established Differential Absorption Lidar (DIAL) observation network in China to focus on spatial and temporal distribution and transmission of ozone pollutants in Xiamen.
In terms of particulate matter (PM2.5), widely-used Mie lidar was also set up for the vertical profiles of particulates.
Specifically, vehicle-mounted lidar and MAXDOAS together with fixed lidar network were implemented to grasp the conditions of major transmission channels in surrounding regions of Xiamen. Observation network and pollution tracking systems successively worked from Aug. 31 to Sep. 8.
Until now, AIOFM's scientific research team is still executing monitoring task in Xiamen and offering important scientific reports for the government's management and evaluation of control effect.
The three-dimensional detection technology system of atmospheric environment that was researched and developed by AIOFM (CAS) on its own became the main technical backbone through industrialization platform of Wuxi CAS Photonics Co., Ltd in this action.
"I was deeply impressed by the lidar for ozone and tracking observation system", said ZHAO Yingmin,vice minister of Ministry of Environmental Protection, at the air quality assurance action. He also fully affirmed the important role of three-dimensional detection technology system of atmospheric environment provided by AIOFM during this action.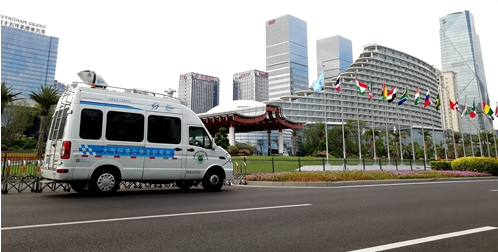 Air quality monitoring by mobile lidar (Image by CHEN Zhenyi)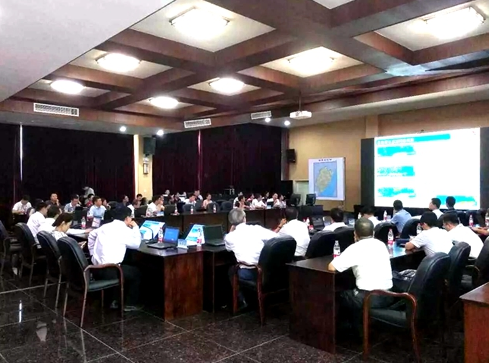 Scientists are discussing the air quality assurance action (Image by CHEN Zhenyi)
Contact:
ZHANG Tianshu
Anhui Institute of Optics and Fine Mechanics
Tel:+86--551-65593068
E-mail:tszhang@aiofm.ac.cn