A world-class ion cyclotron resonant heating (ICRH) antenna, a key part of nuclear fusion facility, was delivered to a French institute in Anhui Province on Monday.
The antenna was manufactured by the Chinese Academy of Sciences Institute of Plasma Physics (ASIPP), and delivered to the Institute for Magnetic Fusion Research (IRFM) under French Alternative Energies and Atomic Energy Commission (CEA).
The antenna, which has reached French nuclear power standard, will be used to heat plasma for the IRFM Wolfram Environment in Steady-state Tokamak (WEST), said Song Yuntao, deputy director of ASIPP.
The antenna is a collaborative design and a Chinese production, said Gabriele Fioni, director of the department of international relations of CEA.
The cooperation on fusion between ASIPP and IRFM began in the 1980s. The two sides signed a contract in 2013 to establish a joint laboratory and will produce two more antennas for the WEST project.
Founded in 1978 in Hefei City, ASIPP has been focused on the research of controlled thermonuclear fusion energy. The institute has mastered advanced technology in high temperature plasma physical experiments and nuclear fusion project, according to institute director Wan Baonian.
Nuclear fusion is considered a clean and safe source of power and is being widely pursued by researchers around the world. (Xinhua)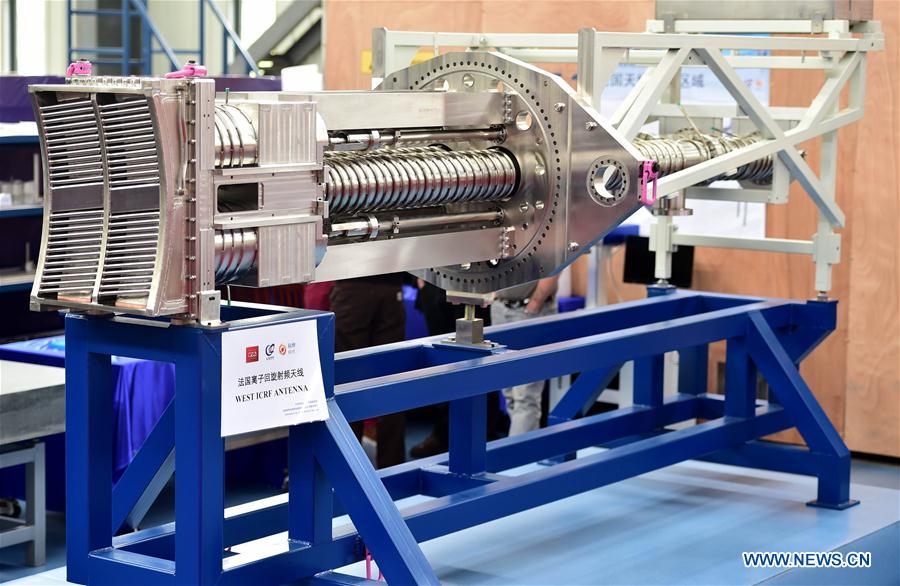 Photo taken on April 25, 2016 shows the ion cyclotron resonant heating(ICRH) antenna, a key part of nuclear fusion facility, at the Chinese Academy of Sciences institute of plasma physics (ASIPP) in Hefei, capital of east China's Anhui Province. The world-class ICRH antenna, manufactured by ASIPP, was delivered to a French institute in Anhui Province on Monday. (Xinhua/Liu Junxi)