From March 26 to 31, the 2017 International Workshop on Photoionization & Resonant Inelastic X-ray Scattering (IWP/RIXS2017) was held in Aussois, France, which was jointly organized by Synchrotron SOLEIL and the University of Paris?VI.
Invited by Laurent Nahon, chairman of the organizing committee, Prof. TANG Xiaofeng of Anhui Institute of Optics and Fine Mechanics (AIOFM) delivered an oral presentation entitled "Spectroscopy and dissociation dynamics of state-selected CH3X+ ions", in which he introduced the latest progress in the research and application of synchrotron radiation photoionization mass spectrometry along recent years.
In addition, during the workshop, TANG and two scientists from French Synchrotron SOLEIL, Dr. Nahon Gustavo and Dr. Garcia, hosted thorough discussion on the joint application of the international cooperation project of the Chinese Academy of Sciences, as well as the specific issues about the following experimental studies on radical reactions in Synchrotron SOLEIL.
The IWP/RIXS workshop series have been organized every three years since 1992, the last three ones were held near Uppsala (Sweden) in 2008, in Las Vegas (US) in 2011 and Erice (Italy) in 2014. The 2017 edition of IWP/RIXS covers a broad field related to photoionization/RIXS processes on dilute matter: atoms, molecules, ions, transient species, molecular complexes, clusters, nanoparticles and liquid interfaces. More than 200 scientists from 16 countries attended this workshop.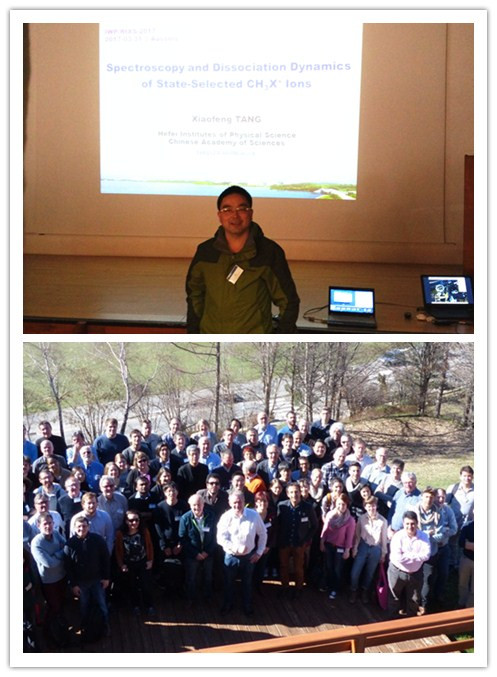 Image by TANG Xiaofeng
Contact:
TANG Xiaofeng
Anhui Institute of Optics and Fine Mechanics (http://www.aiofm.cas.cn/)
Hefei, Anhui 230031, China
Tel: +86-0551-65591560
E-mail:tangxf@aiofm.ac.cn