The 8th international DOAS (differential optical absorption spectroscopy) workshop was held in Yokohama, Japan from September 3-7, 2017.
During the workshop, academician LIU Wenqing and Professor XIE Pinhua, the deputy director of Anhui Institute of Optics and Fine Mechanics (AIOFM), both delivered oral presentations titled "The Environmental trace gases Monitoring Instrument (EMI) onboard satellite: development and pre-launch calibration" and "The MAX-DOAS network in China and its application in the regional atmosphere quality monitoring" respectively.
In the presentation, they introduced the latest progress in the technology and application of DOAS in China.
AIOFM scientists discussed with international experts on the active / passive DOAS technology and its application in the field of the environment.
They also exchanged ideals of development of instrumentation and algorithms in various atmospheric research applications.
The International DOAS Workshop is the highest-level conference in DOAS field, and scientific research teams from all over the world attends the conference. The main topic of this workshop are as follows: new concepts and techniques for DOAS, advances in DOAS analysis method, improvement for radiative transfer model and satellite retrieval method, development prospects, as well as the DOAS International Symposium on issues such as comparative experiments CINDI-2.
Academician LIU Wenqing (right) in the workshop (Image by LI Ang)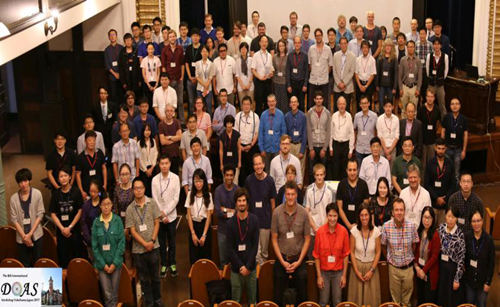 Scientists participated in the workshop (Image by LI Ang)