In a paper published in eLife, a Chinese-U.S. team reported that the 27 T (Tesla) ultra-high static magnetic field can change the orientation and morphology of mitotic spindles in human cells.
This is the first reported study that investigated the cellular responses to ultra-high static magnetic field of above 20 T.
Purified microtubules, one of the major cytoskeleton of the cells, have been shown to align along the static magnetic field in vitro because of their diamagnetic anisotropy.
However, whether mitotic spindle in cells can be aligned by magnetic field has not been experimentally proved. In particular, the biological effects of SMF of above 20 T have never been reported before.
The researchers of High Magnetic Field Laboratory, Chinese Academy of Sciences(CHMFL) found that in both human nasopharyngeal carcinoma cells (CNE-2Z cells) and human retinal pigment epithelial cells (RPE1 cells), spindles change their direction in 27 T static magnetic field. The direction of spindle alignment depended on the extent to which chromosomes were aligned to form a planar metaphase plate.
Their results show that the magnetic torque acts on both microtubules and chromosomes, and the preferred direction of spindle alignment relative to the field depends more on chromosome alignment than microtubules. In addition, spindle morphology was also perturbed by 27 T static magnetic field.
Their study not only reported that ultra-high magnetic field can change the orientation and morphology of mitotic spindles, but also provided a tool to probe the role of spindle orientation and perturbation in developmental and cancer biology.
This work was done by Professor ZHANG Xin's group and Professor LU Qingyou's group in CHMFL, in collaboration with Professor Timothy Mitchison in Harvard Medical School.
The ultra-high static magnetic field which researchers used in this study was produced by WM4 water-cooling magnet in CHMFL. This work was supported by the National Key Research and Development Program of China, National Natural Science Foundation of China and Chinese Academy of Sciences "Hundred Talent program".
Link to the paper: 27 T ultra-high static magnetic field changes orientation and morphology of mitotic spindles in human cells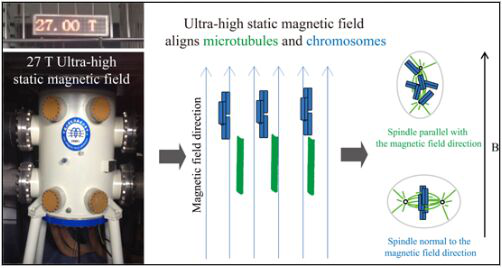 27T ultra-high SMF aligns microtubules and chromosomes to change spindle orientation and morphology. (Image by ZHANG Xin)
Contact:
ZHANG Xin
High Magnetic Field Laboratory, Chinese Academy of Sciences (http://english.hmfl.cas.cn/)
Hefei, Anhui, 230031, P. R. China
Tel:+86-551-65593356
Email: xinzhang@hmfl.ac.cn