As reported in Chemosphere recently, SHEN Chengyin and his co-workers, in the Laboratory of Medical Optical and Mass Spectrometry, Center of Medical Physics and Technology, Hefei Institutes of Physical Sciecne developed a novel technology of spray inlet proton transfer reaction mass spectrometry (SI-PTR-MS) to realize real-time and on-line monitoring of 6 different kinds of volatile organic compounds (VOCs) in water.
The available technology to on-line monitor VOCs in water could not be fast and sensitive at the same time. For example, as for the membrane inlet or headspace inlet mass spectrometer (MI/HIS-MS), the sensitivity is high, however, the response is slow. On the other hand, capillary introduction mass spectrometer (CI-MS) possesses a fast response, but its sensitivity is relatively low.
To tackle this limitation, the team designed and developed a spray inlet (SI) technology to rapidly extract VOCs in water.
The SI coupled with a home-made PTR-MS was developed to rapidly and sensitively on-line monitor VOCs in water.
According to previous studies on the detection of benzene in water (Analytical. Chemistry, 2016, 88(6):3144-3148, ), SHEN's team carried out a systematic study on 6 different kinds of VOCs, namely acetaldehyde, ethanol, acetone, xylene, ethyl ether and acetonitrile, thruogh which they realize the rapid and sensitive detection of these 6 VOCs at the same time.
This study provides a new mass spectrometry technology to monitor VOCs in water, as well as promotes the application of the PTR-MS in water environment quality monitoring.
This research was granted by the National Natural Science Foundation of China, and the technology and method used in this research have obtained the national invention patent.
Link to the paper: Rapid and sensitive on-line monitoring 6 different kinds of volatile organic compounds in aqueous samples by spray inlet proton transfer reaction mass spectrometry (SI-PTR-MS)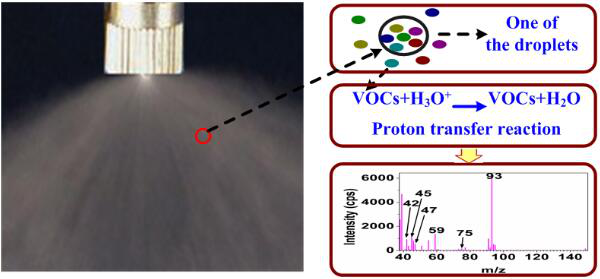 SI-PTR-MS for the detection of VOCs in water (Image by ZOU Xue)
Contact:
SHEN Chengyin
Center of Medical Physics and Technology (http://www.cmpt.cas.cn/zx_zx/)
Hefei 230031, PR China
Tel: +86-551-65595179
Email: chyshen@aiofm.ac.cn