In its paper published in Journal of Industrial Microbiology & Biotechnology, the study team of ZHENG Zhiming at Institute of Technical Biology & Agriculture Engineering, Hefei Institutes of Physical Science, managed to synthesize vitamin K2 by recombinant Pichia pastoris.
With significant physiological value, vitamin K2 is a naturally occurring form of vitamin K, which is mainly produced by microorganisms. It plays a vital role in reducing the risk of osteoporosis , treating the hemorrhagic disease, promoting the produce of prothrombin and has great value on medicine. As for its large-scale production, construction of cell factory for Vitamin K2 biosynthesis attracts much attention in the research field.
The team screened dozens of genes which might relate to Vitamin K2 synthesis from Actinomyces.
Aromatic prenyltransferase novQ gene from Streptomyces niveus was selected, spliced assembly and optimized for construction of the recombinant vector pPIC9-novQ.
And novQ was overexpressed in Pichia pastoris. After fermentation optimization, NovQ production increased obviously. Then the different effects of metal ions, detergents and pH on the activity of purifed NovQ were investigated to optimize the prenylation reaction.
In order to enhance the growth and synthesis ability of Pichia pastoris cells, a whole cell catalysis technology system for Vitamin K2 synthesis was constructed. The production of Vitamin K2 reached 90mg/L.
This work could be considered as an attempt to construct cell factories for synthesis of menadione derivatives through further use of synthetic biology strategy.
The research is supported by the National 863 Program "Vitamin K2 fermentation systematic optimization", Chinese Academy of Sciences STS Program "Key technology development and demonstration of cell factory for Vitamin K2 synthesis".
Link to the paper: Biotransformation of menadione to its prenylated derivative MK-3 using recombinant Pichia pastoris.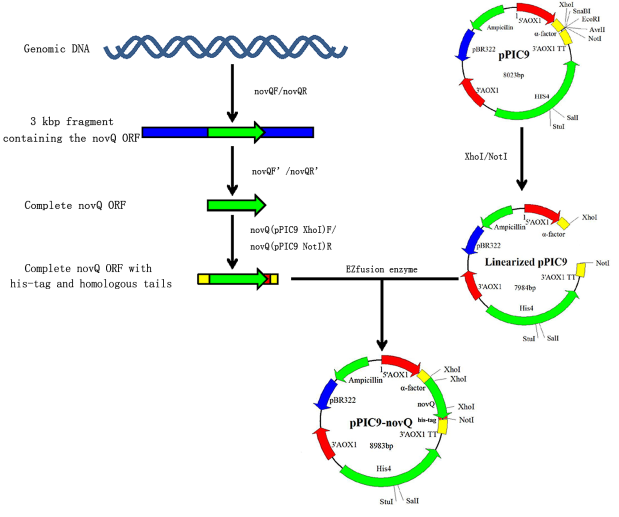 Construction of recombinant vector (Image by WANG Peng)
Contact:
ZHENG Zhiming
Institute of Technical Biology & Agriculture Engineering (http://english.itb.cas.cn/)
Hefei, Anhui 230031, China
Tel:0551-65593148
Email:zmzheng@ipp.ac.cn