A Chinese study team led by Prof. LIU Jinhuai and Prof. YANG Liangbao at Institute of Intelligent Machines(IIM), Hefei Institutes of Physical Science, explored the optimal hotspots of dynamic surfaced-enhanced Raman spectroscopy (D-SERS) to realize drugs quantitative detection. The research has been published in Analytical Chemistry.
Surface-enhanced Raman spectroscopy (SERS) has been widely applied as a powerful qualitative analysis method in many fields.
However, SERS for quantitative detection of drugs still suffers from several limitations partially due to lack of stable and credible analytical strategy. Given this, it is quite necessary to develop a simpler and more practical SERS method to realize quantitative detection of drugs.
In their work, they developed a novel and reliable quantitative SERS method by using D-SERS combined with internal standard strategy. They demonstrate that the optimal hotspots were created from D-SERS through small-angle X-ray scattering (SAXS). The optimal hotspots with excellent reproducibility and stability as well as the advantage of high sensitivity characteristics are suitable for quantitative detection of drugs.
Considering the slight alternation of signals, 4-mercaptopyridine (4-mpy) can act as internalstandard to validly correct and improve stability and in the meanwhile reduce fluctuation of signals.
The public drugs α-methyltryptaminhydrochloride (α-MT) and 3,4-methylenedioxymethamphetamine (MDMA) receive precise analysis with this method. It reduces quantification of MDMA and α-MT to 10 μM and 1.01 μM, respectively.
All in all, the proposed approach poses a challenge on quantitative problems to conventional SERS analysis.
This work is supported by the National Science Foundation of China (21571180 and 21505138), Special Financial Grant from the China Postdoctoral Science Foundation (2016T90590). The authors thank Shanghai Synchrotron Radiation Facility (beam line BL16B1) for providing measurement time.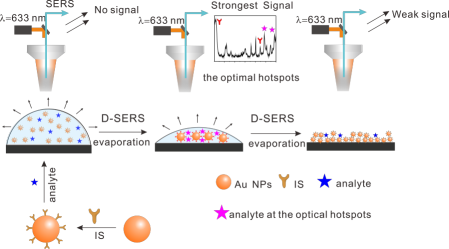 Schematic diagram ofthe optimal hotspots created from D-SERS combined with aninternal standard for quantitative detection.
(Imaged by YAN Xiunan)
Contact:
YANG Liangbao
Institute of Intelligent Machines (http://www.iim.cas.cn/)
Hefei, Anhui 230000, China
Tel: 86-551-6559-2385.
Email:lbyang@iim.ac.cn.