Chinese scientists developed a portable kit for identification and detection of drugs which may realize rapid and reliable on-site detection of drug in human urine.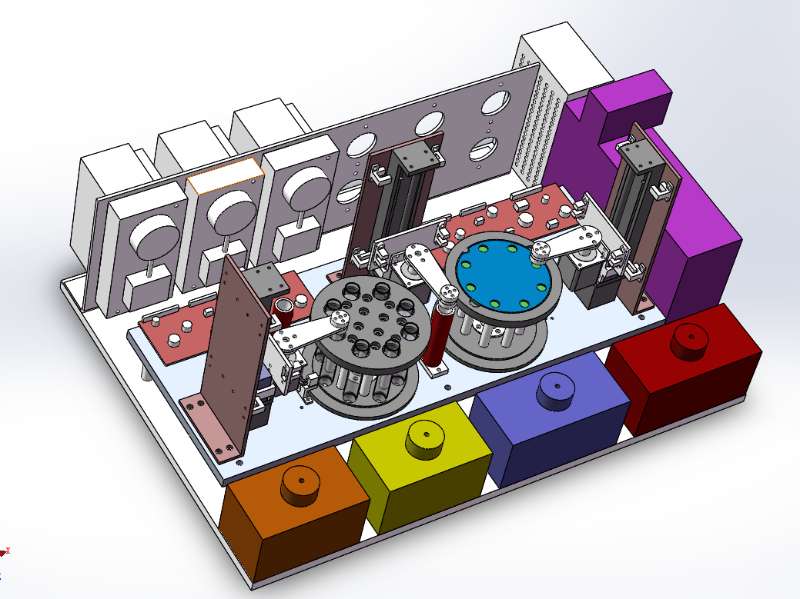 Simulation diagram of the portable kit (Imaged by DONGRonglu)
Chinese Scientists at Institute of Intelligent Machines(IIM), Hefei Institutes of Physical Science works closely with Anhui Provincial Public Security Bureau narcotics Corps, Evidence identification center of Anhui Public Security Bureau and Anhui CAS-SAFER Technology Limited Company (CASA) to create a portable kit for identification and detection of drugs which has been proved to applicable in rapid and reliable on-site detection of drug in human urine.
Previously, the team conducted a series of innovative work to exploit pretreatment methods and design Raman spectrometer including differential confocal microscopy, integrating enhanced Surface-enhanced Raman Spectroscopy (SERS) substrate.
Now, the portable kit has been completed, which mainly consists of four parts, including pretreatment module, enhanced chip module, intelligent identification module and spectrometer module.
In the field of core technology, the portable kit uses SERS as a kind of spectrum detection technology, and can realize rapid and accurate detection in trace analysis owing to fingerprint identification of SERS. In the aspect of instrument software, researchers have developed reliable data processing systems.
To date, a large number of experiments have been carried out on the real drug samples of human urine by using the portable kit to verify the accuracy of the results.
However, the components are complex in human urine, making it important to overcome the interference problem in the rapid detection process. Hence, the pre-treatment methods will be further optimized. Meanwhile, the database of drugs will be established completely as soon as possible. In the near future, the assembled ultra-sensitive portable kit will be better applied to the on-site analysis of drugs.
''In view of the prevalence of heroin, methamphetamine and new-type drugs, the portable kit will step into its practical use in Anhui Province firstly, however we plan to promote the device in the public security system around the whole country ultimately", pointed out Prof. YANG Liangbao, the leader of the research team and a scientist of IIM.
Contact:
YANG Liangbao
Institute of Intelligent Machines (http://english.iim.cas.cn/)
Hefei, Anhui 230000, China
Tel: 86-551-6559-2385
Email: lbyang@iim.ac.cn.