Recently, a team led by Prof. WU Zhengyan in Institute of Technical Biology and Agricultural Engineering, Hefei Institutes of Physical Science, developed a pH-responsively controlled-release pesticide (PRCRP) with magnetic collectability using diatomite, Fe3O4, chitosan, and pesticide.The result was published in Chemical Engineering Journal with the title of Fabrication of a controllable nanopesticide system with magnetic collectability.
Pesticides are widely applied to control weeds, pests, and diseases all over the world, playing a key role in grain production. Traditional pesticide unabsorbed by crops tends to discharge into environment, which causes severe pollution to ecosystem and hazard to human beings.
Therefore, it is urgent to develop facile and effective approaches to reduce the loss of pesticide and enhance the utilization efficiency.
"To solve the problem, we made an attempt to construct a multifunctional nanopesticide system," said WU, the team leader.
The release of PRCRP could be easily adjusted by pH because chitosan coating, as a gatekeeper, could be open in acidic condition through the protonation and dissolution effects.
The magnetism resulted from Fe3O4 endowed PRCRP a feasible magnetic collection performance. After the release of pesticide, PRCRP could be separated conveniently from water and soil with a high collection ratio.
In their study, PRCRP displayed a high adhesion capacity on the weed surface and pest epidermis, a significantly controlled-release performance, a high utilization efficiency, an outstanding control efficacy on weed and pest, and potential collectability in practice.
Their work provides a promising approach to improve the utilization efficiency of pesticide and reduce the risk to environment, which has a huge potential application prospect.
This research was supported by the National Natural Science Foundation of China, the Key Program of Chinese Academy of Sciences, the Youth Innovation Promotion Association of Chinese Academy of Sciences, and the Science and Technology Service Programs of Chinese Academy of Sciences.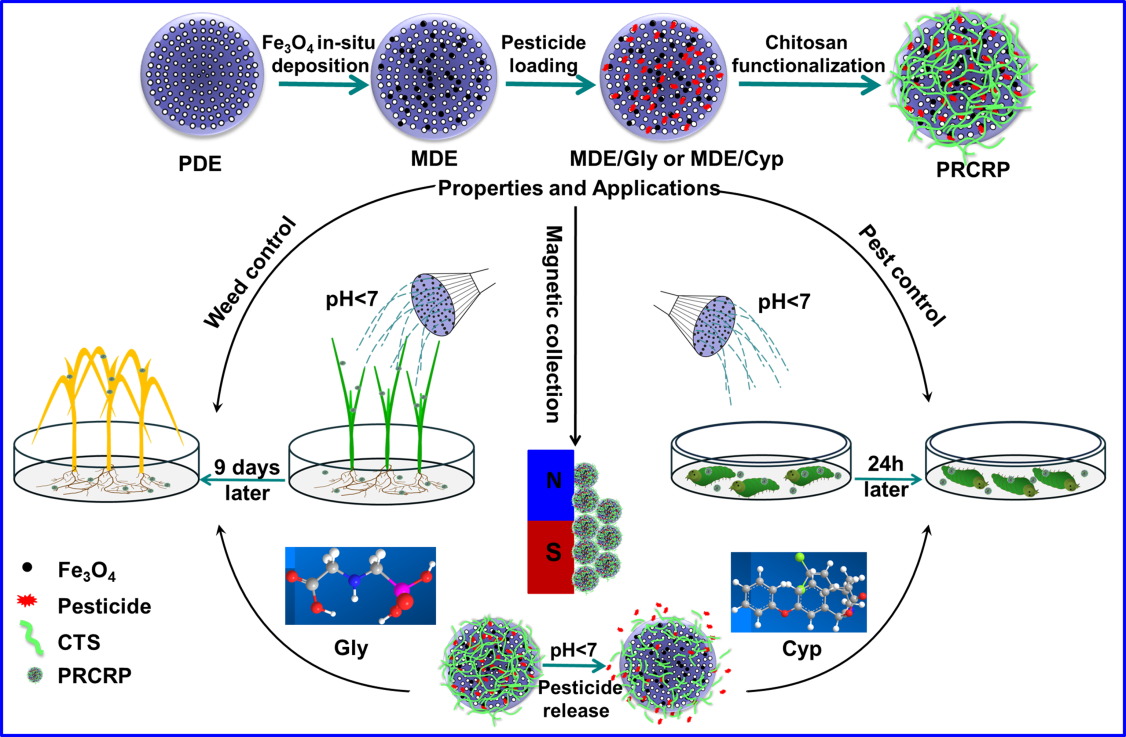 Schematic diagram for the fabrication and application of controllable nanopesticide system. (Image by XIANG Yubin)
Contact:
WU Zhengyan
Institute of Technical Biology and Agriculture Engineering (http://www.itb.cas.cn/)
Hefei, Anhui 230031, P. R. China.
Email: zywu@ipp.ac.cn