Recently,a team led by WU Zhengyan in Institute of Technical Biology & Agriculture Engineering, Hefei institutes of physical science developed a high-performance magnetic nanosystem (OMCCNC) to efficiently remove Anthracenemethanol (AC) from soil driven by a magnetic separation system (MSS).
Anthracenemethanol (AC), a typical polycyclic aromatic hydrocarbon, tends to be discharged into environment through anthropogenic activities. Due to its high toxicity, carcinogenicity and mutagenicity, AC greatly threatens human health, which is even intensified with its hydrophobic, chemical stable and anti-biodegradation properties.
Traditional approaches to remove AC display several disadvantages such as secondary pollution, high cost, complicated procedure, and time-consuming in different extents. Owing to the lack of effective separation methods, it remains as a great challenge to remove AC from soil.
Aim at this, WU's team managed to develop a facile and systematic approach to efficiently remove AC from soil. Their approach was detailed in Chemical Engineering Journal with title of Removal of anthracenemethanol from soil through a magnetic system assisted by ceramsite coated with nanoflower-structured carbon and preparation for its engineering application.
The OMCCNC, which use magnetic ceramsite coated with nanoflower-structured carbon, can be conveniently fabricated by using ceramsite, FeCl2, and glucose via a one-step hydrothermal treatment. As such, the OMCCNC presents high magnetism and adsorption capacity on AC from soil through hydrogen bonds and other interactions.
Importantly, the OMCCNC-AC mixture can be efficiently separated and collected by MSS, and the OMCCNC has a good regeneration performance.
Their approach provides a promising and facile systematic approach to remove organic contaminant from soil, which has a huge engineering application potential.
This research was supported by National Natural Science Foundation of China, the Youth Innovation Promotion Association of Chinese Academy of Sciences, the Key Program of Chinese Academy of Sciences, the Science and Technology Service Programs of Chinese Academy of Sciences, and the Grant of the President Foundation of Hefei Institutes of Physical Science of Chinese Academy of Sciences.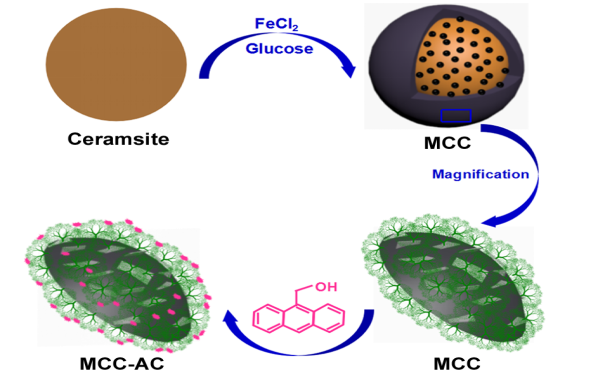 Schematic diagram for the fabrication and application of OMCCNC. (Image by Zhou Linglin)
Contact:
WU Zhengyan,
Institute of Technical Biology and Agriculture (http://www.itb.cas.cn/)
Hefei, Anhui 230031, P. R. China.
Email: zywu@ipp.ac.cn