A study team led by Professor WU Yuejin in Institute of Technical Biology and Agriculture Engineering, Hefei Institutes of Physical Science assessed the performance of a novel low-cost slow-release urea on maize production, their study was published in the journal Field Crops Research.
Nitrogen (N) is an essential element for crop growth. Rational application of N enhances world food security. However, application of common N fertilizer carries a high risk of N leaching and ammonia emission, which is harmful to ecosystems.
How to reduce N loss emerges as a worldwide concern and slow-release fertilizer may provide a possible option to alleviate N loss. However, the price of most slow-release fertilizers is quite high, limiting their application in field crop production.
WU's team reported a low-cost matrix-based slow-release urea (MSU) which is suitable for field maize production.
Compared with common urea (CU), MSU increases maize profits by 118.7 and 176.0 USD ha–1 in 2015 and 2016, respectively. Matrix materials and urea form aggregates, which is responsible for the lower N loss and greater soil N availability in MSU treatment.
Greater grain yield, agronomic efficiency, and apparent recovery efficiency in MSU treatment are highly attributed to the better maize development resulted from higher N availability.
In addition, detailed morphological and physiological responses of maize to MSU were also discussed.
The study shows that matrix-based fertilizers, with remarkable outputs and acceptable costs, have a broad prospect in field crop production.
The work was supported by the National Natural Science Foundation of China (31601828), the National Key Research and Development Program of China (2017YFD0301302), and the Science and Technology Service Network Initiative of Chinese Academy of Sciences (KFJ-STS-QYZD-020, KFJ-STS-ZDTP-002).
Link to the paper: Performance of matrix-based slow-release urea in reducing nitrogen loss and improving maize yields and profits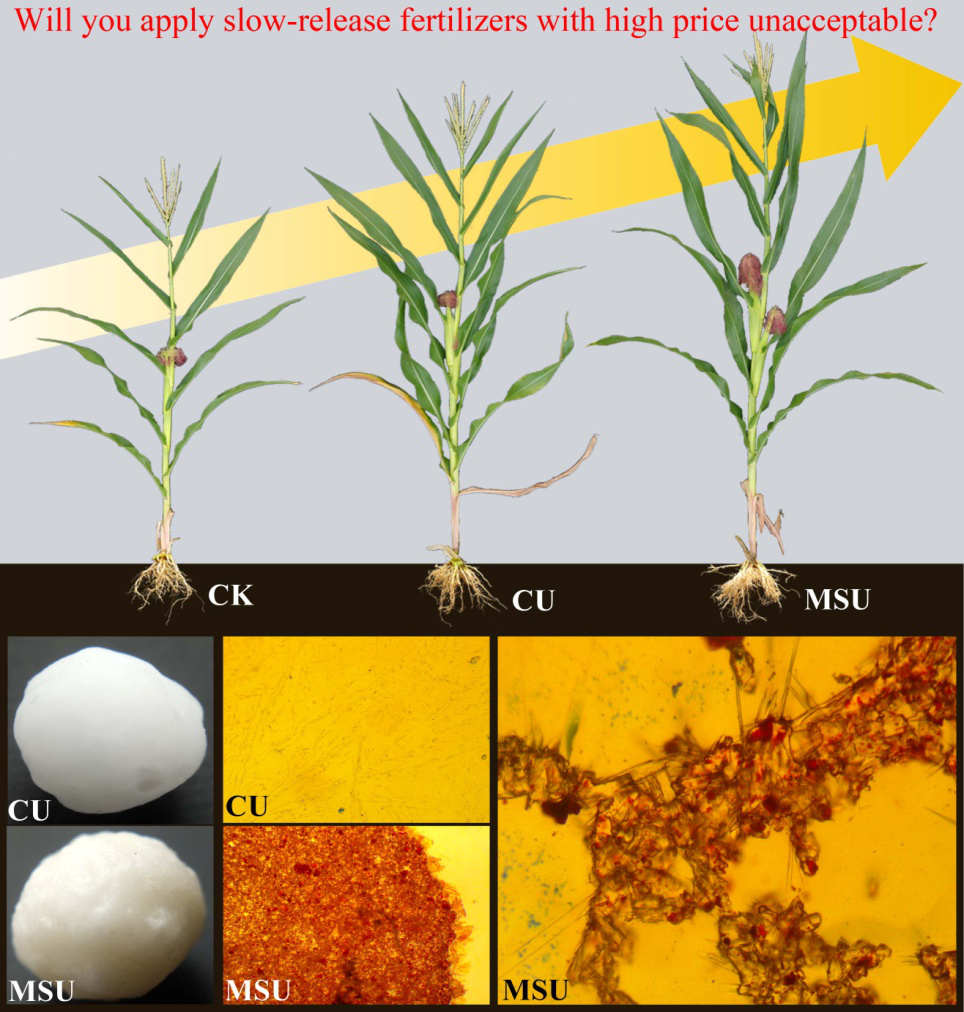 Matrix materials and urea in matrix-based slow-release urea (MSU) form aggregates, which improve soil N availability and increase maize yields and profits. CU, common urea; CK, the control test.(Image by YANG Yang)
Contact:
WU Yuejin, Ph.D, Principal Investigator
Institute of Technical Biology and Agriculture Engineering (http://english.itb.cas.cn/)
Hefei, Anhui 230031, China
Tel: +86-13505690166
E-mail: yjwu@ipp.ac.cn