ISSP researchers manage to develop an integrated catalyst research instrument to study and develop specific catalsysts in biomass catalytic conversion, announced by a research group led by Prof. ZHAO Huijun at Institute of Solid State Physics (ISSP), Hefei Institutes of Physical Science. According to the team, the project has passed the general acceptance of the experts now.
Biomass, a renewable non-fossil carbon energy source, has been regarded as an ideal substitute to traditional fossil resources to produce fuels, fine chemicals, and commodity materials. In this regard, it is widely accepted as a viable solution to develop biomass utilization technologies.
In the past, the instrument applied in the biomass catalytic conversion are mainly derived from existing devices which are designed based on petrochemical technology. Due to the different structure and composition of biomass and fossil oil, this kinds of equipment cannot directly used in biomass refinery, which would induce some serious problems, like low efficiency, corrosivity, high energy comsuption, an so. In fact, by now, there was no specific instrument for biomass conversion catalyst research.
To solve the problems, ZHAO's group had been striving to develop an integrated catalyst research instrument which could be applied to study and evaluate the catalytic performance of biomass conversion catalyst.
After two years of R&D, ZHAO's group has reached their goal that they have successfully developed the target instrument, in which three kinds of reactors (fluidized bed reactor, fixed bed reactor, and slurry phase reactor) are integrated together and these reactors can be ingeniously connected via series or parallel combination depending on the practical situation.
Through a multi-reactor combination, the developed instrument can be applied in series of biomass catalytic conversion process, like gasification, pyrolysis, liquefaction, hydrolysis, bio-oil refinery and so on.
The operation parameters can be adjusted in a wide range (reaction temperature 25-800 oC, and pressure 0-10 MPa), which ensures that the instrument could be used to study variety types of catalytic reactions.
In addition, the instrument is highly intelligent through a software system for real-time monitoring and analysis of reaction process. The instrument provides a research platform for the development and evaluation of catalysts in the process of biomass conversion.
The passed acceptance check of this project marked the instrument getting into a practical stage in research. The project is supported by Instrument Developing Project of the Chinese Academy of Sciences (Grant No.yz201421).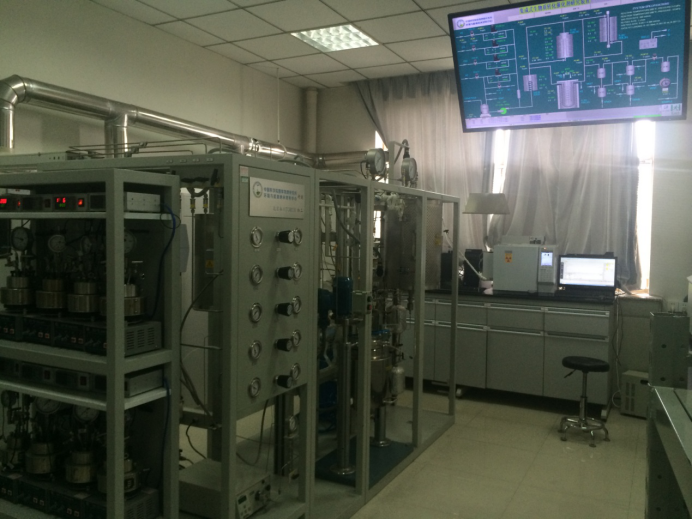 The instrument of biomass conversio catalyst research instrument (Image by CHEN Chun)
Contact:
ZHAO Huijun
Institute of Solid State Physics (http://english.issp.ac.cn/)
Tel:+86-551-65591263
E-mail:hjzhao@issp.ac.cn