Scientists at Anhui Institute of Optics and Fine Mechanics (AIOFM), Hefei Institutes of Physical Science have completed an effective Algae Fluorescence Spectrum On-line Analyzer.
Currently the analyzer has finished its trial production, and a long demonstration operation is underway in Chaohu Lake, Taihu Lake and Sanjiangying Reservoir. The prototype with independent intellectual property rights has also passed achievement appraisement.
Red tide and algal bloom, has become a great threat to the water ecological environment of China for a long time. The eutrophication of water pushes algae to grow sharply, which further leads to the deterioration of water.
However, there is few available overall systematic study of algae due to the drawbacks of conventional algae measurement methods. For example, spectrophotometry and high performance liquid chromatography needs a long-time as well as extrime complex measurement which is very hard to realize in real-time monitoring.
Thanks to their efforts, ZHAO Nanjing's research group has made several broke through in multiple key technologies to provide reliable technological means for algae real-time monitoring.
Fluorescence Spectrum On-line Analyzer is based on three-dimensional fluorescence technique, combined with unique optical and mechanical structure design, weak fluorescence signal detection technology, and multicomponent classification algorithm. It can be used for real-time classification and measurement of cyanobacteria, green algae, diatom and cryptophyta.
Furthermore the online analyzer greatly simplifies the conventional algae measuring method, reduces the cost of environment monitoring, improves the algae monitoring ability of environment monitoring department, as well as provides a powerful equipment and technological support for the early warning of algal bloom and red tide.
There is no doubt that the "born" of the system can effectively imply the current situation that most of high-end Fluorescence Spectrum Analyzer devices in China depend on imports. And it is estimated that there are more than 6,000 environment monitoring sites in China, bringing a huge market to the self-developed algae monitoring system.

The algal bloom and red tide (Image by QIN Zhisong)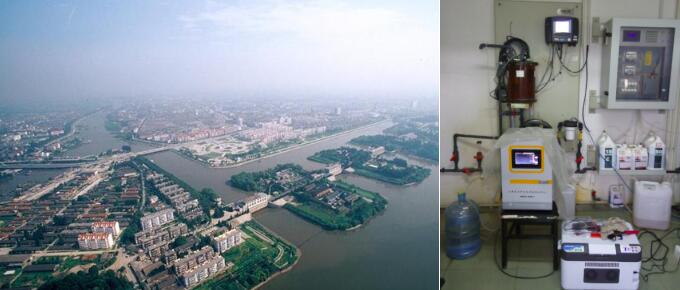 Fluorescence Spectrum On-line Analyzer for algal bloom and red tide (Image by QIN Zhisong)
ZHAO Nanjing
Anhui Institute of Optics and Fine Mechanics (http://www.aiofm.cas.cn/)
Tel:0551-65591040
E-mail:njzhao@aiofm.ac.cn