ITER DG Bernard BIGOT hosting the ceremony (Image by Christophe ROUX)
The first ITER magnet component, PF4 cryostat feeder through, arrived in Cadarache on 25th October. A ceremony was held in Institute for Magnetic Fusion Research (IRFM) to celebrate this delivery from China.
This magnet feeder system was manufactured by the Institute of Plasma Physics (ASIPP), Hefei Institute of Physical Science, and will be tested on Magnet Infrastructure Facilities for ITER (MIFI) on the French Alternative Energies and Atomic Energy Commission ( CEA) site, before installation on ITER.
At the ceremony, ITER Director General (DG) Bernard Bigot congratulated and thanked China for its partnership, leadership, scientific genuine excellence and, most of all, its commitment to ITER project.
"Yesterday was just the 10th anniversary of ITER. I believe what we are doing is historic!" Director General of ITER China CNDA DG LUO Delong said. "I would express my gratitude to the ASIPP team led by SONG Yuntao".
Feeder is the lifeline of ITER magnet. It carries cryogenic cooling and power supply and plays the role as the transmission line for diagnosis and control signals.
The newly-arrived PF4 CFT is 8.5m long, 4.8m tall and 2.5m wide, consisting of more than 60,000 parts and weighing 16.1 tons. But can we imagine? It is just 1% of the entire Feeder system!
PF4 CFT is also the first magnet component of ITER. It's the first feeder component to be installed before the ITER cryostat is in place.That's why its arrival has positive significance to the progress of ITER project.
CEA/IRFM Director Alain Becoulet, ITER Magnet Division head Neil Mitchell and more than 40 scientists and engineers from ITER IO, ASIPP and IRFM also attended the ceremony to welcome the component arriving across seas.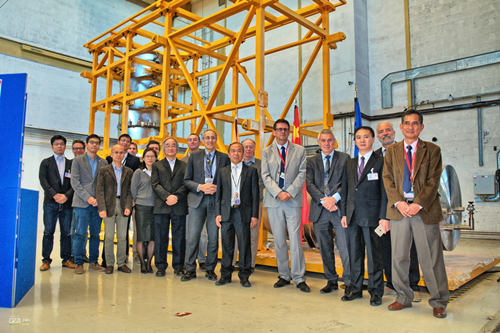 Group photo with the component (Image by Christophe ROUX)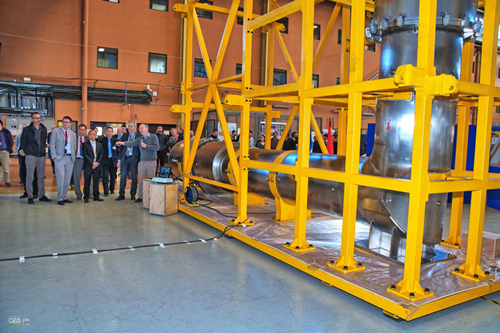 Neil Mitchell introducing PF4 CFT (Image by Christophe ROUX)
Contact:
XI Yingkun
Institute of Plasma Physics (http://english.ipp.cas.cn/)
Tel: +33-0442257339
Email: xiyingkun@ipp.ac.cn