Due to its great application potential and unique advantages, atmospheric non-thermal cold plasma emerges as an innovative and attractive technology in bio-medicine field, especially in sterilization.
Until now, numerous study teams have reported promising results regarding the use of non-thermal cold plasma in bacterial inactivation in medical sterilization, agricultural production, food safety management and etc.
Recently, a research team led by Prof. HUANG Qing, who is a senior fellow of Institute of Technical Biology & Agriculture Engineering, Hefei Institutes of Physical Science has made new progress in the investigation of the effects of ambient conditions especially the inorganic salts on microbe inactivation by discharge plasma.
They found that chloride, a common inorganic salt which is necessary for maintaining life activities, has great impact on the plasma-induced bacterial inactivation. It potentiates oxygen plasma-induced bactericidal effect, while attenuates nitrogen and air plasma-induced bacterial inactivation effect.
In order to investigate the underlying mechanism, they have explored the transformation of chloride under plasma exposure and also its influence on the generation of several plasma-produced reactive oxygen species (ROS).
Through the investigation they carried out, they found that under oxygen plasma treatment, the chloride in solution is quickly oxidized to active chlorine which can enter bacterial cells and kill the bacteria.
While under nitrogen and air plasma treatment, the produced active chlorine rapidly reacts with plasma-produced hydrogen peroxide and nitrite to form chloride and nitrate, resulting in the decrease of bacterial inactivation efficiency.
Furthermore, the results of membrane permeabilization analysis indicate that effect of chloride on bacterial inactivation under plasma exposure is via the modulation of membrane damage.
Their findings in this work are highly relevant to future application of plasma in bacterial inactivation, and also helpful for understanding the sterilization mechanism of plasma with consideration of complex environment factors.
This research has been published in Plasma Processes and Polymers entitled Effect of chloride on bacterial inactivation by discharge plasma at the gas-solution interface: potentiation or attenuation.
These works were supported by the National Nature Science Foundation of China, the Natural Science Foundation of Anhui Province, and also the Youth Innovation Promotion Association of the Chinese Academy of Sciences.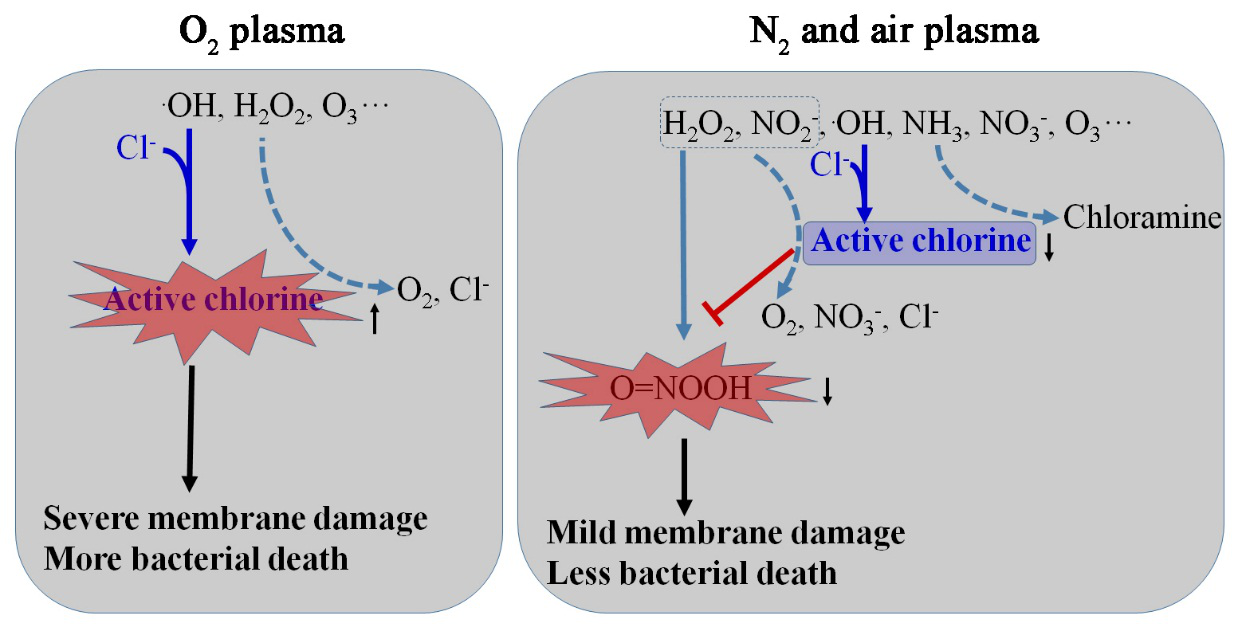 The effect and mechanism of chloride on bacterial inactivation by discharge plasmas using different types of gases. (Image by KE Zhigang)
Contact:
HUANG Qing
Institute of Technical Biology & Agriculture Engineering (http://english.itb.cas.cn/)
Tel: 86-551-65595261
Email: huangq@ipp.ac.cn