Wheat cultivation is always threatened by contamination of heavy metals. Cadmium, as one kind of heavy metal generally put crops at risks.
As a big agricultural country, China discovered a new role of biohormone, or phytohormone-melatonin that in positively regulating the plant responses to the cadmium stress in wheat.
A research team led by WU Lifang at Hefei Institutes of Physical Science made the work.
Their discovery also proves that melatonin could be used to promote the plant growth and alleviated the cadmium toxicity during wheat cultivation.
As for the risks cadmium brings to water and soil, it leads to the growth inhibition and heavy metal accumulation in crops, which finally result in great threats to human health.
Though a great deal of efforts has been made to control the cadmium stress, some problems remain in alleviating the cadmium toxicity or generating cadmium-resistant crops.
The discovery investigated how melatonin prevented the cadmium toxicity to wheat seedlings and demonstrated that in wheat, the key genes that involved in the biosynthesis of melatonin and endogenous melatonin level were positively regulated by cadmium stress.
Melatonin treatment drastically alleviated the cadmium toxicity, resulting in increased plant height, biomass accumulation, and root growth.
This study may provide the physiological and biochemical basis for further investigation of the regulatory mechanism of melatonin-mediated tolerance to cadmium stress in wheat.
The research was supported by the Natural Science Foundation of Anhui Province, and the "STS" Project of Chinese Academy of Sciences.
Link to the paper: Exogenous Melatonin Confers Cadmium Tolerance by Counterbalancing the Hydrogen Peroxide Homeostasis in Wheat Seedlings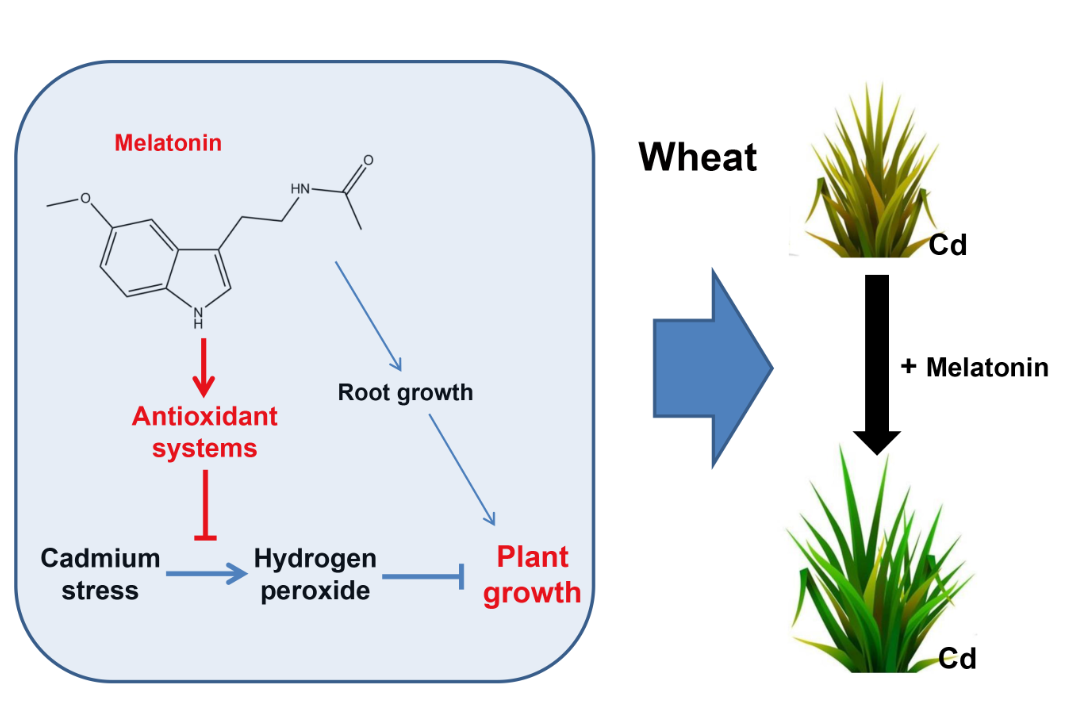 Role of melatonin in the regulation of cadmium resistance in wheat (Image by NI Jun)
Contact:
ZHOU Shu
Hefei Institutes of Physical Science (http://english.hf.cas.cn/)
Email: zhous@hfcas.ac.cn