Nanomaterials could change both vertical distribution of heavy metals and their accumulation in creatures in water environment, according to a new study by XU An and her team in Institute of Technical Biology and Agriculture Engineering, Hefei Institutes of Physical Science.
And Journal of Ecotoxicology and Environmental Safety published their research effort.
Nanomaterials are no longer strange high-end things confined in the labs nowadays. Titanium dioxide nanoparticles, or TiO2 NPs, are the most frequently used kind with a wide range of commercial utilization. When used in water purification, especially in sewage treatment, there is great chance for TiO2 NPs to interact with coexisting pollutants.
XU's team used a model organism, a worm named Caenorhabditis elegans, to help them take a closer look at the combined toxicity of nanoparticles and heavy metals (namely cadmium (Cd), arsenate (As(III)), and nickel (Ni)).
They found that TiO2 NPs could absorb the heavy metals and settle down the depth with them, making the heavy metal concentration a lot higher in the bottom layer of the water. This threatened the worms living there: they ingested more heavy metals, which damaged their reproductive systems.
It's clear that TiO2 NPs could enhance the toxicity of the heavy metals on benthic worms in the aquatic environment by increase their accumulation, making the interaction of TiO2 NPs and heavy metals a necessary consideration in risk assessment.
This work was supported by grants from Major National Scientific Research Projects, Strategic Leading Science & Technology Program (B), National Natural Science Foundation of China and Major/Innovative Program of Development Foundation of Hefei Center for Physical Science and Technology.
Link to the paper: TiO2 nanoparticles enhance bioaccumulation and toxicity of heavy metals in Caenorhabditis elegans via modification of local concentrations during the sedimentation process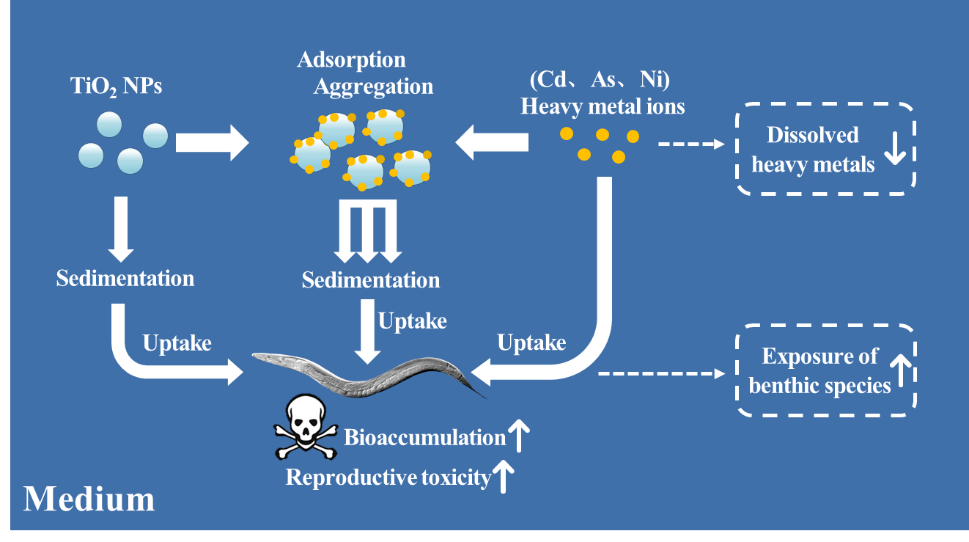 TiO2 NPs modify the local concentrations and toxicity of heavy metals (Image by WANG Jingjing)
Contact:
ZHOU Shu
Hefei Institutes of Physical Science (http://english.hf.cas.cn/)
Email: zhous@hfcas.ac.cn