It was not long before that the research team of WU developed a "raincoat" to control potato sprouts. Now they tried to promote it also using nano technology.
The study was conducted by Prof. WU Zhengyan and his team in Institute of Technical Biology and Agriculture Engineering, Hefei institutes of physical science and their attempt was detailed in Journal of Agricultural and Food Chemistry.
Potato is one of the globally top four crops and an excellent staple food due to its high nutritional value.
How quickly or slowly the potato sprouts closely depends on covering ratio of water and air (OARWA) of the plant's surface. And the speed of potato sprouting influences its production.
However, potato seeds has relatively smooth surface, leading to a low water-retaining capacity. Additionally, because of its hydrophilic surface, water tends to occupy almost all the surface area, which is unfavorable for the respiration.
Therefore, the sprouting speed in soil is very slow, which has negatively affect its production as well as raises further effect on sustainable development of potato-related industries.
Considering this, WU's team managed to develop a nano presprouting agent (NPA) for promoting potato seeds sprouting. NPA, an amphiphilic nanocomposite, was fabricated through loading hydrophobic silica in attapulgite networks.
It could endow potatoes with an appropriate OARWA and thus effectively accelerate the sprouting.
In addition to its role of spouts quickening, it could greatly decrease soil bulk density, facilitate both earthworms and potatoes growth, and increase yield by 14.1%.
Even better, the NPA showed tiny influence on the viability of fish and nematodes, demonstrating a good biosafety, considering it has to contact with oil although did not pass through potato skin and mainly existed on the surface of potatoes.
This work provides a promising presprouting approach for potatoes, which may potentially applicable in ensuring food supply.
This research was supported by the Youth Innovation Promotion Association of Chinese Academy of Sciences, the Science and Technology Service Programs of Chinese Academy of Sciences, and the Science and Technology Major Project of Anhui Province.
Link to the paper: Promoting Potato Seed Sprouting Using an Amphiphilic Nanocomposite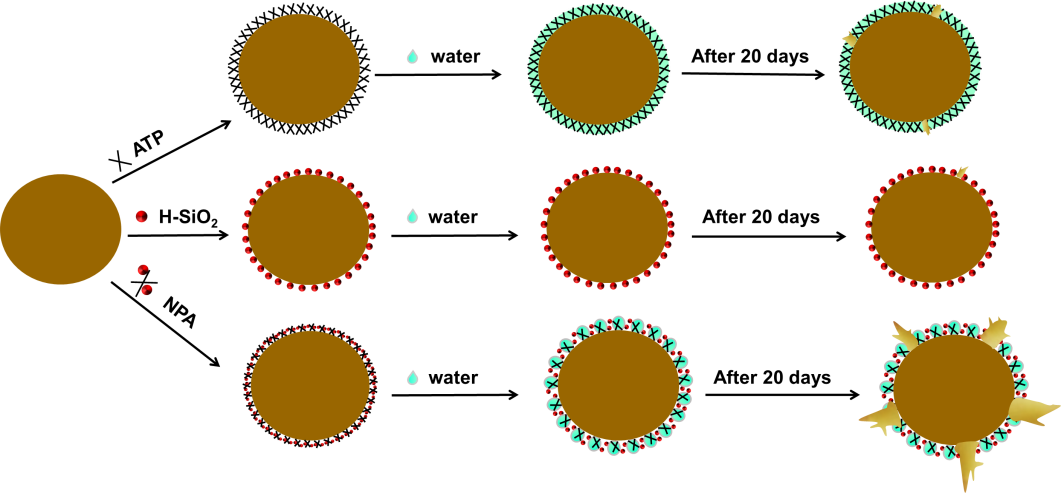 Schematic illustration of mechanism. (Image by ZHANG Lihong)
Contact:
ZHOU Shu
Hefei Institutes of Physical Science (http://english.hf.cas.cn/)
Email: zhous@hfcas.ac.cn