Recently, a team led by Prof. WU Zhengyan in Institute of Technical Biology and Agriculture Engineering, Hefei Institutes of Physical Science developed a light-switchable herbicide nano safener (LHNS) to protect the crops from herbicides as well as to enhance the adhesive of foliar fertilizer, which has a huge application prospect.
During the past few decades, a large amount of herbicides are used all over the world each year. The herbicides would drift with wind, and the drifted herbicide drops easily adhere to the surface of crops leaves, resulting in crop damage at different degree.
Thus, a variety of herbicide safener have been developed to protect crops from herbicides including fenclorin, dichlormid and others. These safeners do protect crops from herbicide to different extents, however there still remains a problem: low universality when applied to resist herbicide. Hence, it is necessary to develop a universal safener for herbicide.
In this work, a light-switchable herbicide nano safener (LHNS) was fabricated to protect crops by reducing the adhesion of herbicides. The LHNS endowed crop leaves with a hydrophobic surface, decreased herbicide adhesion amount, and thus could be used as herbicide safener.
After ultraviolet (UV) light irradiation, the LHNS became hydrophilic, and the resulting product was named hydrophilic-LHNS (HL-LHNS), which could act as an adhesive to enhance the adhesion of foliar fertilizer on crop leaves.
Under infrared (IR) light, HL-LHNS was recovered hydrophobic. Reversible conversion between the two states could be achieved by UV and IR irradiation.
This work presents a simple route to protect crops from herbicides and enhance urea utilization efficiency by changing the wettability of leaf surface, which may have a high application value in agriculture and environment fields.
This research was supported by the Science and Technology Service Programs of Chinese Academy of Sciences, the National Key R&D Program of China, the Key R&D Program of Ningxia Province, the Science and Technology Major Project of Anhui Province.
Link to the paper: TiO2/biochar with light-switchable wettability as herbicide safener and foliar fertilizer adhesive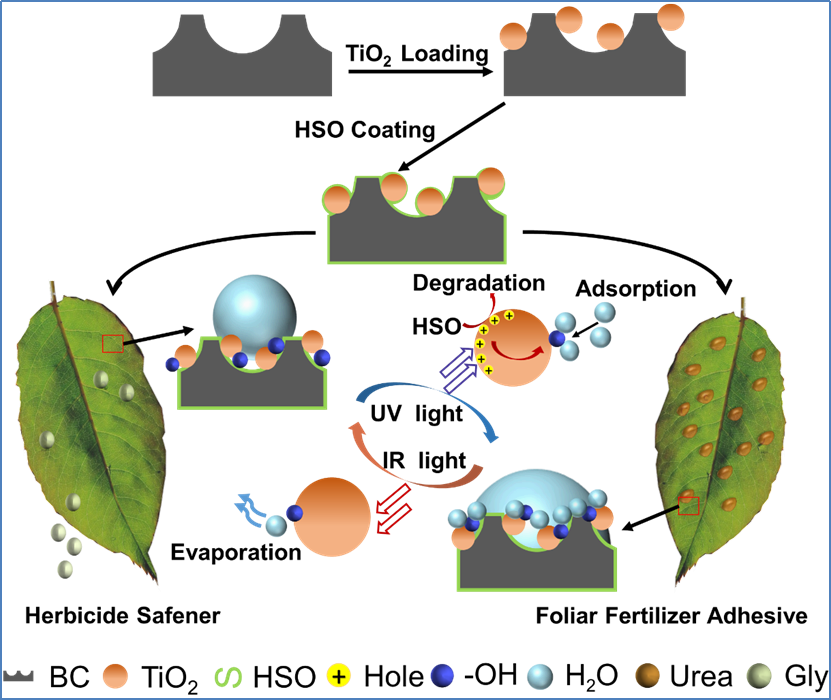 Diagram of the fabrication process and mechanism of LHNS. (Image by GAO Yujie)
Contact:
ZHOU Shu
Hefei Institutes of Physical Science (http://english.hf.cas.cn/)
Email: zhous@hfcas.ac.cn