Researchers applied deep learning network in nuclear fault diagnosis system to improve diagnosis accuracy under the new trend of large-scale, complex and distributed system development.
This work was done by Institute of Nuclear Safety Technology, Hefei Institutes of Physical Science.
Deep learning(DL) is the popular area, which trys to extract high-level abstract features through nonlinear transformations in multiple layers and has been widely studied in many complex applications.
"We applied the current popular deep convolutional network in the fault diagnosis in nuclear reactor, which is good at two-dimensional data recognition," said YAO Yuantao, a PhD in the study team.
In their work, the diagnosis accuracy found improved through constant training and optimization model. And the team also did a comparison with the traditional binary classification and multiple classification models, it turned out that deep convolutional networks possessed advantages over traditional approaches.
According to the team, their work needs to be further explored to develop the fault prediction module based on the deep recurrent neural network as well as to integrate the monitoring, diagnosis and prediction function to construct the DL based nuclear transient analysis system.
The study was ponsored by the Anhui foreign science and technology cooperation project (No. 201904b11020046), the National Natural Science Foundation of China (NSFC) (No.71671179), Informatization Project of Chinese Academy of Science (XXH13506-104), the Special Project of Youth Innovation Promotion Association of Chinese Academy of Sciences and the project of Hefei Institutes of Physical Science, CAS (KP-2019-13).
Link to the paper: Small‐batch‐size convolutional neural network based fault diagnosis system for nuclear energy production safety with big‐data environment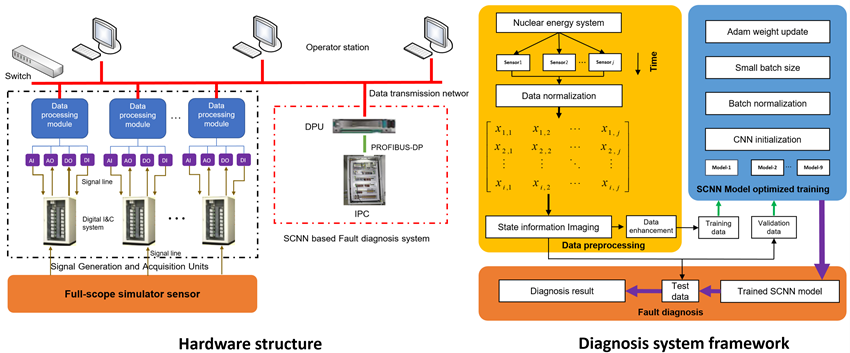 Deep Learning Network in Nuclear Fault Diagnosis System under Big-data Environment (Image by YAO Yuantao)
Contact:
ZHOU Shu
Hefei Institutes of Physical Science (http://english.hf.cas.cn/)
Email: zhous@hfcas.ac.cn