At the invitation of Prof. XIE Pinhua, the deputy director of Anhui Institute Of Optics And Fine Mechanics (AIOFM), Dr. SHI Zongbo from University of Birmingham visited AIOFM and made a report titled "Introducing Air Pollution and Human Health in a Chinese Megacity programme (APHH-Beijing)". Researchers from the center of Environmental Optics, the center of Atmospheric Optics and the related departments took part in this academic seminar.
At the meeting, Dr.SHI Zongbo introduced the APHH-Beijing programme funded by National Natural Science Foundation of China, UK's Natural Environment Research Council and The medical research council. And he highlighted the research team and their expertise as well as the key working programmes within each project. He also introduced the field campaigns and how the five funded projects could and would be integrated. Finally, he proposed additional measurements in the next field campaign to answer key cross-programme scientific questions.
After meeting, Dr. SHI Zongbo visited the center of Environmental Optics and discussed the further scientific research cooperation.
Dr. SHI Zongbo graduated from the Anhui University of Science and Technology, and obtained the PhD degree in China University of Mining and Technology in 2003. Then he worked in Tsinghua University on fog and haze processing of primary particles and the sources of urban aerosols as a postdoctor from 2003 to 2005.Later,he was granted a JSPS fellowship to work in Prefectural University of Kumamoto, Japan in 2011, Dr. SHI joined University of Birmingham Now he is the special lecturer in Earth and Environmental Sciences at University of Birmingham. His current researches aims at improving the estimation of the deposition fluxes of bioavailable iron, phosphorous and trace metals to the global ecosystems.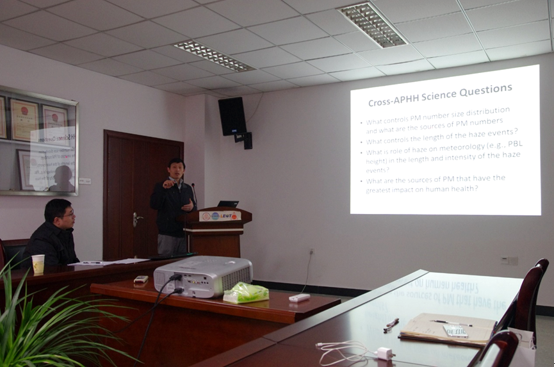 Dr. SHI Zongbo in the presentation (Imaged by DUAN Jun)