At the invitation of Prof. QIAO Yanli, the chief engineer of Anhui Institute Of Optics And Fine Mechanics (AIOFM), Dr.CHEN Yuwei from Remote Sensing and Photogrammetry Centre of Excellence in Laser Scanning Research, Finnish Geospatial Research Institute visited the Center of Optical Remote Sensing of AIOFM on August 31.
During this visit, Prof. QIAO Yanli and Dr. CHEN Yuwei had a deep communication in which CHEN shared his outstanding work in remote sensing technology.
In CHEN's study, he has completed on his own a series of work from the design and debugging of the system, field experiment, data processing analysis, to the final scientific proposing and paper writing.
His visit this time is to carry out a project named "Go to Chinese Academy of Sciences (CAS)".
At the meeting, CHEN made an academic report titled "Hyperspectral LiDAR" to make a insightful analyze on the principle and development of laser radar, the problem of laser radar in the complex structure of the forest, and the detection advantage of microwave radar by easy-to-understand language.
At the meanwhile, the microwave radar that was completely self-developed by CHEN's team realized the height and density of forest trees ,to obtain the characteristics of the Finnish terrain, forest growth, and the pattern of lake evolution.
At the meeting, CHEN also share the world's first high-spectrum laser radar system which was built by his team and its application research achievements they have reached now impressed the audience deeply.
Finally, the two sides of the meeting had a common discussion on the broad application potential in the remote sensing field and he expressed his openions on some key technical issues.
This visit lays a bright foundation for the cooperation of the two sides.
CHEN Yuwei who was born in 1975 in Hangzhou. He finished his bechlor degree majored in electronic engineering in Zhejiang University, and his doctor's degree majored in technology physics at Shanghai Institute of technology physics in CAS, After that, he went to Remote Sensing and Photogrammetry Centre of Excellence in Laser Scanning Research to conduct his postdoctoral study. Now, he is the chief scientist in the direction of remote sensing electronics in Finnish Geospatial Research Institute. He has designed the laser echo detector which was the core components of laser echo detector in China's first lunar exploration satellite Chang'e-1 as well as the world's first eight-channel laser radar. At the meeting of the position positioning and navigation of the annual, co-held by United States navigation society and the United States electrical and electronic engineers association in 2010, he won the best thesis award which made him be the first Chinese prize winner of this award.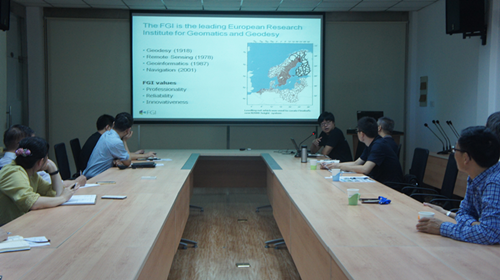 Dr. CHEN Yuwei in his academic report (Imaged by YAN Jing)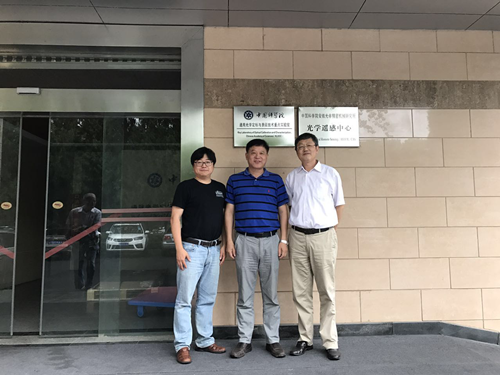 Dr. CHEN Yuwei (left) , Prof. HU Yihua (middle), Prof. QIAO Yanli (right) Group photo
(Imaged by YAN Jing)