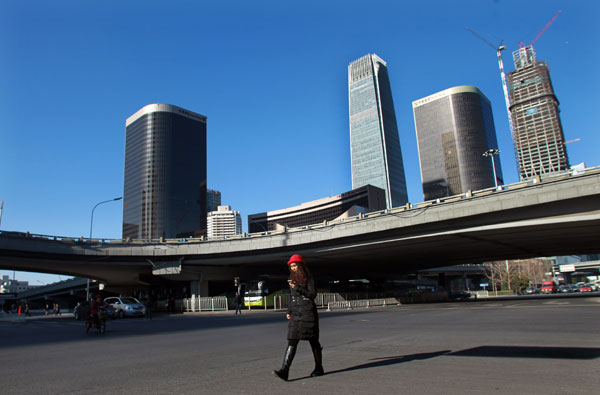 Blue sky makes a backdrop in Beijing's central business district after wind blew away the smog on Dec 10. (ZOU Hong / China Daily)
China is fully capable of ridding the country of its environmental pollution problem in the years to come as the government is resolved to tackle it with better regulation, improved technologies, readjusted structure in energy consumption and people's enhanced awareness, a top Chinese scientist said.
Echoing President XI Jinping's recent reaffirmation in Paris of China's commitments in the global fight against climate change, academician LIU Wenqing of the Chinese Academy of Engineering reiterated that the government's determination to protect the environment is clear as it helps to safeguard public health.
The past 37 years in China's reform and opening-up with marked achievements has brought a high urbanization rate of 47 percent, with urbanized folks outnumbering the populations of Australia, Japan and Italy combined, along with unbalanced eco-protection measures, he said.
Besides, an irrational energy structure (with coal consumption accounting for 57 percent), 1,000-odd chemical industrial parks nationwide and the fast expanding number of automobiles have all helped to fuel air pollution, said LIU, who is also director of theAnhui Institute of Optics and Fine Mechanics (AIOFM) — an arm of the Hefei Institutes of Physical Science under the Chinese Academy of Sciences.
He said air pollution, characterized by increased respirable particles, or fine particulate matter (also known as PM2.5) with a combination of smoke, fumes, dust, ash and aerosols, pose a great danger to people's health.
Thanks to improved technologies and the government's determination, there is now hope that the country can tackle the problem effectively despite the huge increase in the number of cars on the roads — currently there are about 100 cars among every 1,000 people — while the urbanization rate is expected to hit 60 percent by 2020, he said.
LIU's own achievements have helped to promote the progress of China's environmental monitoring technology. Since graduating from the University of Science and Technology of China in 1978, he has been working in China, Greece, Italy and Japan, opening up a new field of environmental optical monitoring technology and developing a series of advanced environmental monitoring equipment.
The AIOFM has partnered with companies in Anhui, Hebei, Hubei and Zhejiang provinces to produce environmental monitoring equipment to perfect China's environmental supervision network.
So far, more than two-thirds of the 1,462 nationally-controlled air quality monitoring stations (established by the Ministry of Environmental Protection in the mainland's 338 cities) and 1,200-odd local-controlled stations have installed such equipment, according to ZHANG Shuai, director of Hefei Center of Anhui Landun Photoelectron Co Ltd.
ZHANG said his company's sales volume reached 200 million units in 2014 and had hit nearly 300 million units by Dec 10, adding that the equipment has helped to supervise air quality, leading to timely precautionary and remedial measures.
To remedy the imperfections of ground monitoring networks, AIOFM Deputy Director XIE Pinhua said her unit has worked under LIU to develop a series of environmental optical monitoring equipment to aid Chinese localities. This can help to get high-resolution data on the temporal and spatial distribution of air pollutants in chosen areas.
During the 2008 Beijing Olympic Games and the 2010 Shanghai Expo, AIOFM helped the two cities ensure the success of the events, thanks to the air quality precautions and forecasting equipment, she said.
LIU noted that the nation's GF-5 satellite is due to be launched next year for three-dimensional data on the transmission of air pollutants at high altitude, where the transmission largely happens, and this helps to give a CT (computed tomography) to the air, aiding in a nationwide cure.
"Combating pollution will the hardest nut to crack in China's course in completing the building of a moderately prosperous society in all respects by 2020," LIU said, affirming it has to be a joint effort by the whole society instead of the unaided endeavors of environmental protection and meteorological agencies, and the chief task should be on the industrial sector's shoulders (to produce less pollutants).
Other steps include perfecting the country's laws and regulations to forbid pollution, and heightening the public's environmental protection awareness, he said.
According to Lloyd Lucien Pinas, the Surinamese ambassador to China, raising people's awareness in environmental protection is vital.
In a telephone interview with China Daily, he said he usually takes Beijing's subway to Capital International Airport instead of using a car.
Muhammad Hamayun, a Pakistani student pursuing his PhD at Hefei-based University of Science and Technology of China, said he believes China can solve the problem of air pollution by going green.
"Green economics, green technology, green things really help amid green practices and better policies in China," he said.(by MA Chenguang in Hefei, China Daily Asia)
Contact:
Prof. LIU Wenqing, XIE Pinhua
Anhui Institute of Optics and Fine Mechanics, Chinese Academy of Sciences
Hefei, Anhui 230031, China.
Tel: 0086-551-65591595, 0086-551-65595308
E-mail:wqliu@aiofm.ac.cn, phxie@aiofm.ac.cn