The Institute of Plasma Physics, Chinese Academy of Sciences (ASIPP) and The European Joint Undertaking for ITER and the Development of Fusion Energy (F4E) has started their cooperation in supply of the ITER Poloidal Field Coil 6 ("PF6") in the coming five years. This cooperation agreement has been endorsed by ITER IO.
Other than PF6 coil, the two parties shall also cooperate in the supply of two unit lengths of extra spare Poloidal Field Coil 6 conductor, maybe two unit lengths of Poloidal Field Coil 5 dummy conductors, according to the cooperation agreement.
PF6 is the bottommost coil of ITER tokomak, should be assembled before all other PF coils, thus its manufacturing and delivery on time is vital for ITER overall construction timescale.
No time to waste. ASIPP has mustered all resources and built up a strong team, consisting of Prof P.D Weng and Prof D.M. Gao, chief engineer and chief technician of EAST, said Dr Song Yuntao, the project manager of ASIPP. After rounds of meeting and exchanges of emails, ASIPP and F4E have agreed on the PF6 coil key issues, manufacturing planning and schedule.
Song is now working closely with Dr P. Valente, F4E responsible technical and scheduling officer, on the timely delivery of a quality PF6. "We had a very good beginning," said Song, "There is no make-or-break for us, only make it."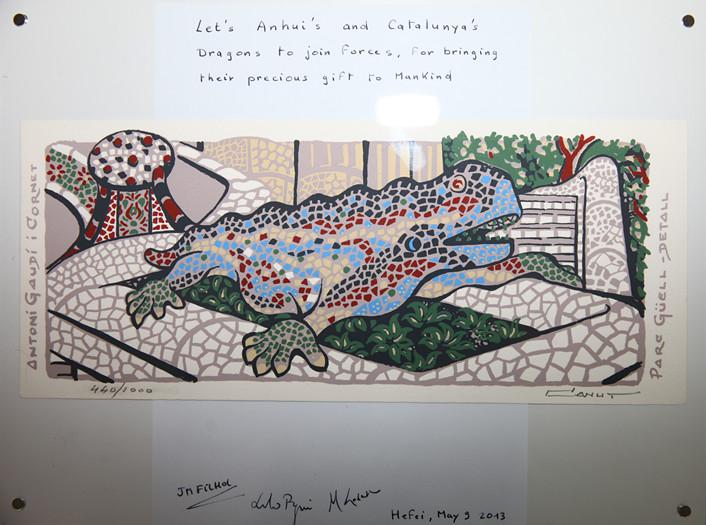 Anhui's and Catalunya's dragons join forces for bringing their precious gift (fire) to mankind.