Headed by Grigory Trubnikov, the acting Deputy-Director, five representatives from JINR(Joint Institutes of Nuclear Research, Russia) came to ASIPP to participate the 1st ASIPP&JINR workshop on Energy S&T and the Applications at the end of February, 2014.
This is the first concrete step for ASIPP & JINR cooperation since last summer when both parties signed the MOU in Russia. To be a further discussion, the main objective of this workshop was to formulate concrete exchange of visits and to detail the approaches to cooperation.
Presided by Prof Li Jiangang, Director of ASIPP, Mr. Valery Goza, First Secretary of Russia Embassy in Beijing, was invited to attend the workshop and give the opening remarks. Altogether 12 reports were presented on NICA and EAST, two mega-science projects in two institutes, namely on project research, current progress, and their cooperation opportunities, etc. Prof Zhan Wenlong, deputy president of Chinese Academy of Sciences (CAS), led the two-day scientific sessions by introducing Nuclear Science & Technology Research in CAS.
After fully exchange of views, decision-makers from two institutes have brainstormed and distilled the next-step joint research subjects, and agreed to expand the current bilateral cooperation. Prof. Li and Mr. Trubnikov signed the minute of the workshop and a joint proclamation to the Ministry of Science and Technology of China and the Ministry of Education and Science of the Russian Federation, with a proposal to seek governmental support on implementation of NICA.
Accompanied by Prof. Li, the Russian guests visited the EAST Tokamak, low temperature and CICC labs.
About JINR
JINR is an international intergovernmental scientific research organization with 18 Member States. It is situated in Dubna not far from Moscow in the Russian Federation. The main fields of theoretical and experimental research in JINR are elementary particle physics, nuclear physics, condensed matter physics and radiation biology.
NICA (Nuclotron-Based Ion Collider Facility) is the Mega-project owned by JINR, which aims at constructing an accelerator-accumulator complex and experimental facilities for studies of baryonic matter fundamental properties.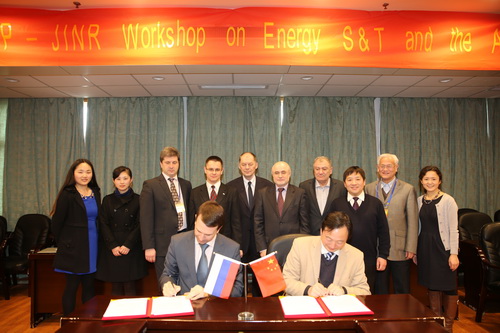 Signing the joint proclamation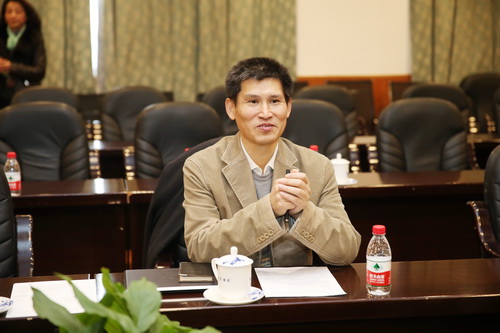 Mr. ZHAN Wenlong, Deputy President of CAS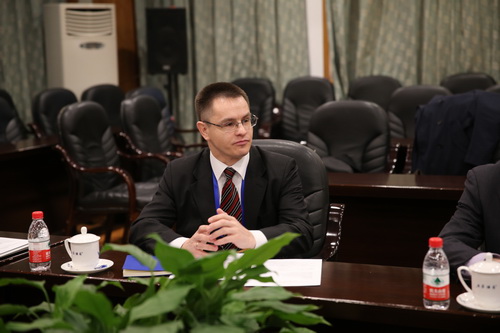 Mr. Valery Goza from Russia Embassy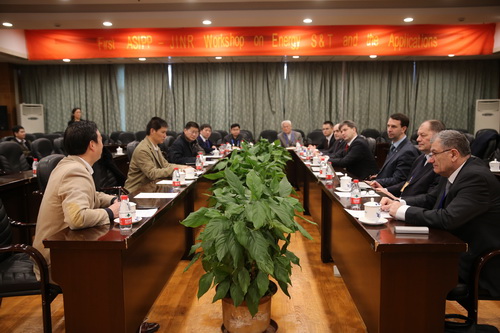 Workshop
(Image by ASIPP)