Michael Walsh, Head of the ITER Diagnostics Division, made his first visit to ASIPP and checked two procurement arrangements (PAs) at the invitation of CN-DA on February 26.
Prof. Junyu Zhao, Head of EP#12 Port Integration PA and Prof. Liqun Hu, Head of EP#12 Radial X-Ray Camera (RXC) PA extended a warm welcome to Michael.
A seminar was held between two parties. Prof. Liqun Hu gave a general introduction of ASIPP as a beginning. Then the researchers from two PAs reported their research situations, including personnel background, research progress and current difficulties. "We need to do the work step by step," Michael suggested after hearing the difficulties.
Micheal introduced ITER Diagnostics work and their projects by giving the lecture "Current Status of ITER Diagnostics-Overview and Diagnostics". "It's like a cellphone." He explained by raising his phone, "It looks small, but a large group of people work behind it." The lecture was concluded amid a warm applause.
At the end of the seminar, Michael visited RXC and Port Integration laboratory, which involved electronics lab, Instrumentation and Control (I&C) lab, calibration lab and so on. He listened carefully to the introduction of trial components.
"Michael Walsh was here." He wrote a sentence on the bulletin board of RXC office before leaving, drawing a smiling face by the side.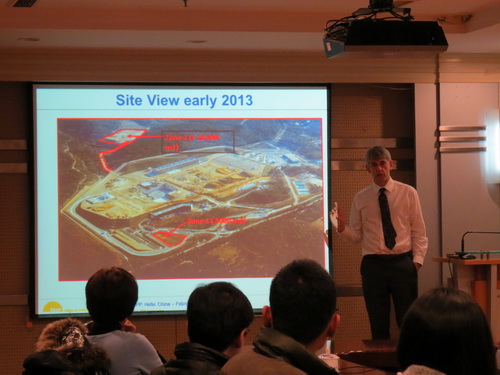 Michael Walsh
(Image by ASIPP)