Three years is not a long period of time, especially for a fusion scientist. Prof. Mohamed Abdou revisited ASIPP on April 24th at the invitation of Prof. Jiangang LI after his last two-month stay as a CAS senior visiting professor in 2011.
This time Abdou only had time to share his latest fusion R&D stories with ASIPP and USTC young researchers and students. Abdou described detailed progress in the US program on FNST and the Blanket Testing Program for ITER in his public lecture entitled Impact of Multiple Effects/Multiple Interactions in Fusion nuclear components on required near- and medium-term R&D on the pathway to DEMO later that afternoon.
As a communication, researchers in Fusion Reactor Materials Science & Technology Division gave a serious of reports on Water-cooled Ceramic Breeder Blanket (WCCB), W/Cu-PFC/ Divertor for EAST, PMI activities and Permeation in Damaged Materials.
After the discussion, Abdou visited the EAST hall and W/Cu Divertor site with the accompany of Prof. Guangnan LUO.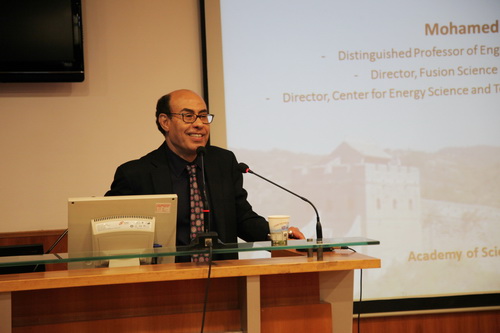 Prof. Mohamed Abdou gave the report