Prof. Oleg Filotov, director of D.V. Efremov Scientific Research Institute of Electrophysical Apparatus ( NIIEFA ), together with his deputies Prof. Valery Belyakov and Dr Andrey Strokach, paid a two-day visit to ASIPP from May 27 at the invitation of director Jiangang LI, to explore and consolidate the topics of future bilateral cooperation. This visit follows last year's ASIPP management visit to NIIEFA and signing the cooperation MOU.
After Li's welcome and introduction on EAST and ITER program at ASIPP, the guests gave three talks on NIIEFA, its contribution in fusion R&D, and electrophysical equipment for medicine, industry and radiation technologies, then visited EAST and its subsystems, ITER workshops. The revisit to ASIPP after more than twenty years interval left him a deep impression, said Filatov during the lab tour.
The host and guests sat down and had a thorough discussion, they formulated the future cooperation topics, including medical accelerators, ITER PF6, power supply, tokamak-related research, student and young researchers exchange, etc.
In view of common research fields and interests, two institutes leaders believe there will be very promising opportunities for collaboration between ASIPP and NIIEFA, and they eye the future with great expectations.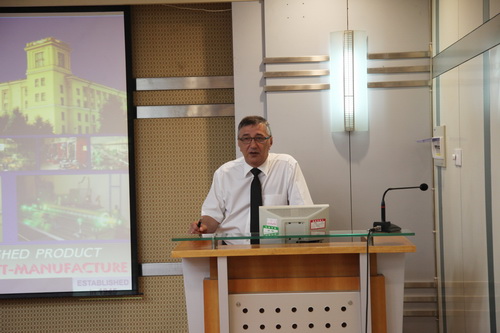 Professor Filotov gives a report
Lab Tour