Dr. Ruey Maw Hong, a CAS Visiting Professor, stayed in ASIPP for one month to participate in the experiment of ion beam extraction on Neutral Beam Injection (NBI) on EAST. This is his third visit to ASIPP since his retirement from General Atomics (GA).
As a formal NBI researcher in General Atomics, Dr. Hong has "much to talk" in his area. With rich experience, Dr Hong says he is happy to help EAST-NBI project move forward, and much happier to work with the young EAST NBI team, witness their growth.
During his stay, Dr Hong worked in the control room every day, even in May Day holiday. He observed the shots of ion source experiment, analyzed the essentials of abnormal phenomena and found out solutions, which made young operators benefits. BY now, EAST beamline-1 has been built, No.4 and No.5 ion sources are being conditioned up.
Dr Hong always says the hardworking spirit of EAST-NBI team impresses him a lot, however, it is Dr Hong himself that has inspired and encouraged his team, according to Prof Chundong Hu, NBI head, he is "one of our NBI family members".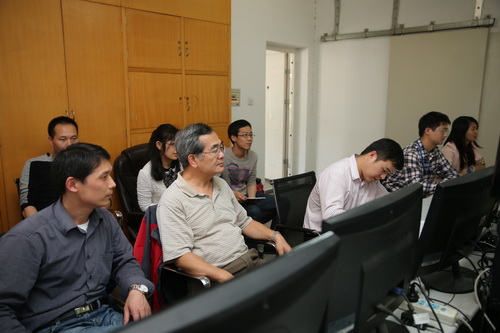 Dr.Ruey Maw Hong works on Labor Day