Invited by Dr. TIAN Mingliang, vice director of High Magnetic Field Laboratory, CAS(CHMFL), Prof. Thomas E. Mallouk from Pennsylvania State University visited the laboratory in Hefei, China, from 22-25 Sep., 2014. This is Prof. Mallouk 's first journey to China.
During the visiting, Prof. Mallouk exchanged academic ideas on material science with the colleagues in the laboratory and discussed some specific physical phenomena in the experiments; He also met and talked with young scientists and graduated students, answer the issues or questions they raised patiently while his visiting.
Prof. Mallouk's academic report entitled "Nanomaterials in One Dimension: Exploring Mesoscopic Phenomena with Template-Grown Nanowires" attracted a great number of audiences from the laboratories in CHMFL as well as the Institute of solid State Physics. They have made discussions and interaction on some issues of applications of disease treatment and security with nano motors and robots in the future.
Prof. Thomas E. Mallouk, an Evan Pugh Professor of Materials Chemistry and Physics at the Pennsylvania State University. His research focuses on the synthesis of inorganic materials and their application to solar energy conversion, catalysis and electro catalysis, nano- and microscale motors, low dimensional physical phenomena, and environmental remediation. He is the author of approximately 350 publications; an Associate Editor of the Journal of the American Chemical Society and Associate Director of the Penn State MRSEC, the Center for Nanoscale Science. He had won a high admiration and honors in the US, such as, American Chemical Society Award in the Chemistry of Materials; Member of American Academy of Arts and Sciences; Thompson-Reuters Top 100 Materials Scientists; American Chemical Society Fellow; Chair of Section on Chemistry, AAAS.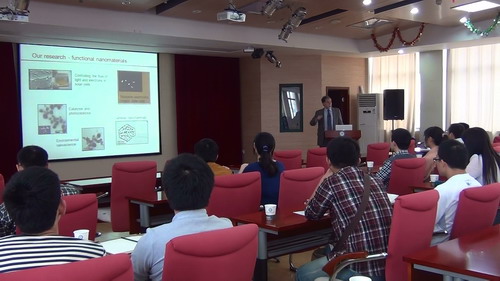 Prof.Thomas E. Mallouk on the talk in CHMFL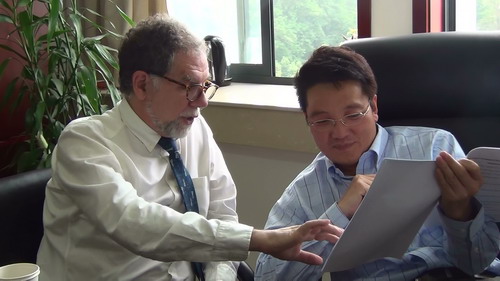 Acdemic discussion in the laboratory