Dr. Honghai Song, from the Facility for Rare Isotope Beams (FRIB) of Michigan State University, visited the CHMFL and gave a lecture on "2G HTS Magnet Technology" on April 29.
Recently, 2G HTS coated conductor attracted a wide spread attention because of excellent mechanical performances and higher critical current density. In the talk, Dr. Song introduced some applied field of 2G HTS coil, including high field acceleration magnet, MRI magnet and so on, and shared his advice about the difficult point of the present 2G HTS magnet, such as HTS coil design, machine and assemble. Dr. Song had an in-depth discussion with the Superconducting Magnets group about the testing method of REBCO coated conductors and the manufacturing technology of 2G HTS Coils.
Dr. Song graduated from National High Magnetic Field Laboratory of the USA, and worked for GE Global Research, SuperPower Inc. He has quite a wide range of interests in 2G HTS material and application. He authored many peer-reviewed journals, including Superconductor Science and Technology, IEEE Transaction on Applied Superconductivity and so on.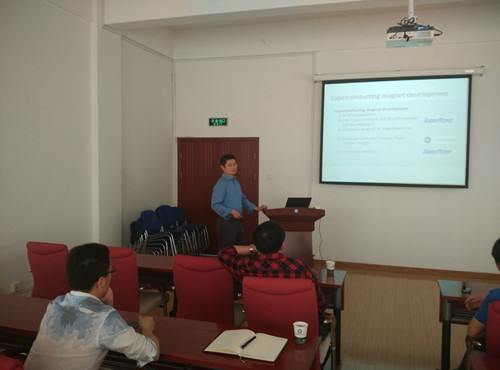 Dr. Honghai Song giving the talk