Concerns of magnetohydrodynamic (MHD) effect for the liquid metal blanket of fusion reactor, the strong magnetic field will bring in a great deal of turbulence for heavy liquid metal in blanket flow channels, and its thermal hydraulic characteristics is changed completely and difficult to validated by experiments.
On October 21, 2015, Prof. T. Kunugi from Kyoto University in Japan visited the Institute of Nuclear Energy Safety Technology (INEST), Chinese Academy of Sciences·FDS Team and gave an interesting lecture at "Phoenix Science and Technology Lecture Forum". He introduced the history of MHD research, the MHD turbulence simulation model and its application in the advanced blanket design, he also carried out some in-depth discussions with the young researchers in FDS team.
Prof. Kunugi is an international authority in nuclear thermal hydraulic field. He won the HTSJ Academic Awards, International SFT Award, VSJ Academic Awards and other awards in Japan and abroad. And FDS team has developed the Magnetic Thermohydraulics Coupled simulation program (MTC) and performed related experiments, this communication laid good foundations for future collaboration.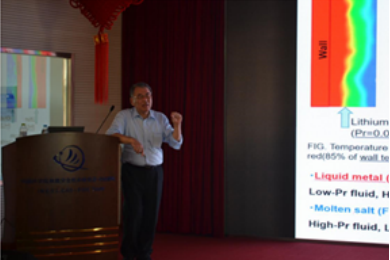 Prof. T. Kunugi was giving lecture (Image by SHANG Hua)