In order to share the experience on environmental pollution detection, Prof. XIE Pinhua invited Dr. OUYANG Bin from Cambridge University to visit Anhui institute of optics and Fine Mechanics, CAS (AIOFM) on Oct. 26, 2015
Dr.OUYANG presented a report entitled Understanding air quality- from low-cost small sensors to cavity-based absorption spectroscopy. He introduced the work in using different detection technologies to study NOx emissions and atmospheric removal process in high urbanization district of northwest Europe. The latest research results of real-time measuring the typical gaseous pollutants including NOx and aerosols were shown, source studies, which were obtained in a large space and high time resolution scale by using low-loss small electrochemical or optical sensors in the way of network distribution or portable. Moreover, the airborne measurement results of NO3 radical and N2O5 molecule were described, which was detected by using cavity enhanced absorption spectroscopy technique in order to study the NO2 digestion mechanism, loss studies, within the boundary layer and higher residual layer in the mid-latitudes district of northwest Europe. Dr. OUYANG focus on how the aerosol component, especially the organic component, affects the heterogeneous reactions of N2O5 in aerosol with the aim to show the atmospheric chemical processes at night and the high variability of NO2 atmospheric lifetime controlled by the processes.
After the lecture, Dr. OUYANG Bin discussed with the attendees on the common concerns, and visited the related labs in Environmental Optics Center and Basic Science Research Center. Both sides exchange views on cooperation in the future.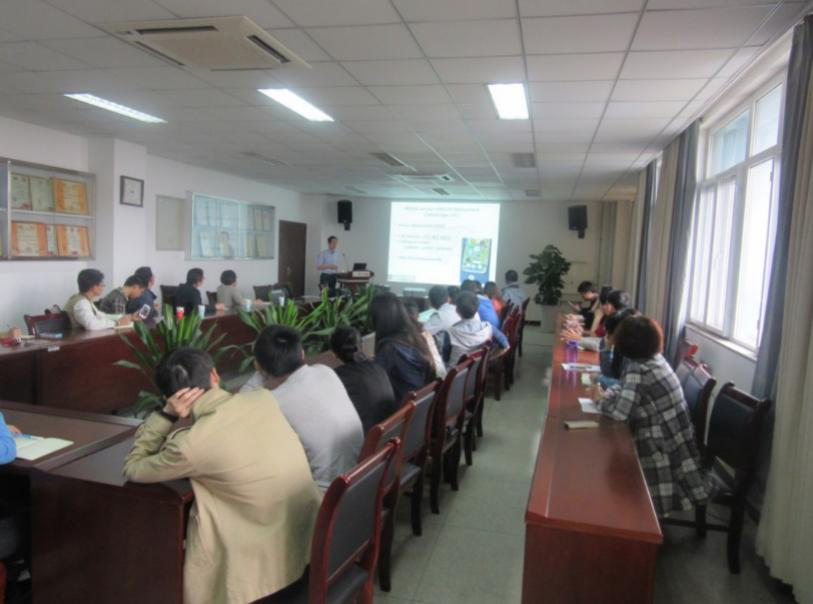 During the talk (Image by LU xue)