"I think it is a very good opportunity for key staff members of the two laboratories to get to know each other better and strengthen the collaboration." Said Dr. Perenboom, who has more than 30 years experience on high magnetic field. This is his third visit to CHMFL in the past few years.
Recently, three experts, Dr. Jos Perenboom, Dr. Frans Wijnenand and Andries den Ouden, who are studying in magnet field from the Nijmegen High Field Magnet Laboratory (HFML) visited the High Magnetic Field Laboratory, Chinese Academy of Sciences(CHMFL) from Oct. 26 to 28.
During the visit, they were very impressed by the five resistive magnets which were independently developed by the scientists and technicians in CHMFL, particularly, WM1, WM4 and WM5, the three world-record-setting water-cooled magnets. They also viewed some other instrumentation and equipments on site and also delivered two presentation in CHMFL.
Scientists and technicians of the two high magnetic field laboratories exchanged their ideas and experiences as well as the latest achievements of both parties. The three experts discussed some of the detailed technology on the construction of the 45T Hybrid Magnet with the staff members from superconducting research group during their stay.
The HFML is a large European Research Infrastructure and a Dutch national research facility. As an international facility, HFML uses and develops high magnetic field to carry out pioneer scientific research by in-house and external users. Over the past few decades, scientists all over the world have made remarkable achievements in HFML, especially the experimental device of the free electron laser has been unique in the world.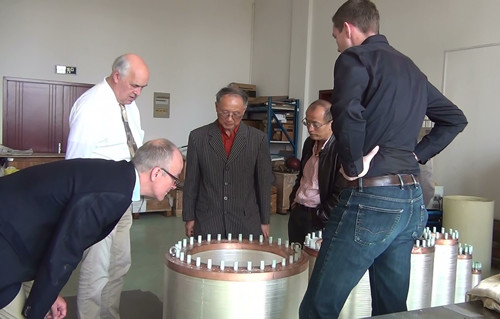 Magnet Observation(Image by ZHANG Fengping)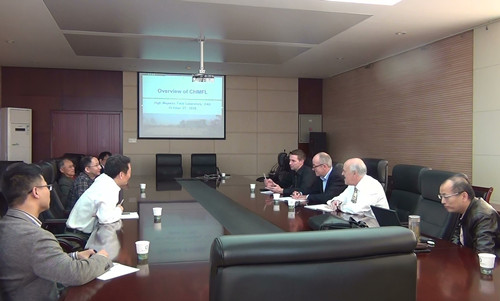 Idea Exchange(Image by ZHANG Fengping)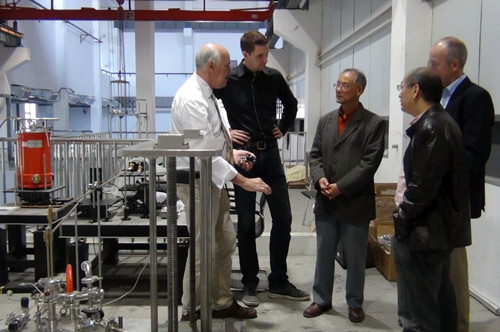 Lab Tour(Image by ZHANG Fengping)