China has developed the Chinese Aeronautic Remote Sensing System (CARSS) to conduct detailed observations and monitoring of Earth's surface that was marked by its successful passing of final acceptance on July 29 in Yingkou, Liaoning Province.
The newly-developed system, listed into the National Large-scale Scientific Infrastructure, has officially put into operation and will serve as a comprehensive and important platform for both aerial remote sensing and scientific experiment.
Dating back to 2010, since the very beginning of the system, the Institute of Anhui Institute of Optics and Fine Mechanics (AIOFM) of Hefei Institutes of Physical Science (HFIPS) has joined the joint force by taking the mission of developing environmental atmospheric composition detection system that would be an important sub-system of the comprehensive earth observation system.
For completing their own part, the HFIPS R&D team developed the atmospheric composition detection system including four independent sub-systems, namely atmospheric lidar, differential absorption spectrometer, multi-angle polarization radiometer and controlling system. All the four independent systems would be installed on the remote sensing aircraft to detect and obtain atmospheric parameters in the target region within a really short time by working together under the good coordination and management of the controlling system.
When the system starts work, the four system installed in both airtight and non-airtight cabins of the remote sensing aircraft will detect and collect, along with the flight, real-time data in target region concerning atmospheric aerosol optical property and microphysical property, concentration of pollution gas in the air and cloud distribution. All of these work will be done based on a combination technologies of active and passive optical remote sensing detection.
Moreover, the real atmospheric environment is usually complicated, so the system features its controlling system with smart management to respond to the challenge in real detection. According to different needs, the controlling system can decide the other three sub-systems work independently or collectively.
According to the team, they had completed independently or collectively every trial flight for system testing that presented the excellent performance in all aspects. The whole project team was pleased to see the quick detection and data-collecting which will lend a big hand in detection of regional, frequent air pollution and disastrous weather.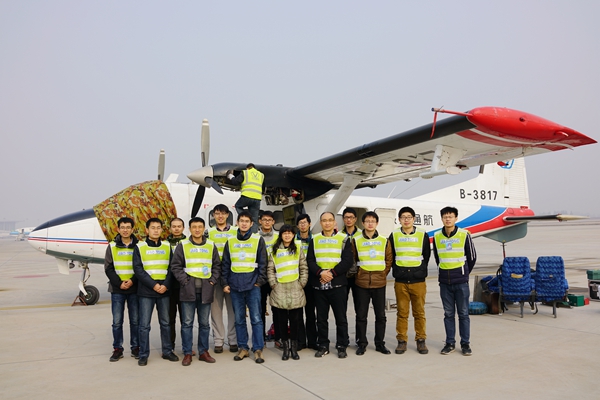 the team in the Institute of Anhui Institute of Optics and Fine Mechanics (AIOFM) completed trial flight for system testing (Image by QI Qiong)
Contact:
ZHAO Weiwei
Hefei Institutes of Physical Science (http://english.hf.cas.cn/)
Email: annyzhao@ipp.ac.cn