High Magnetic Field Laboratory (HMFL) focuses on modern materials research in high magnetic fields. High magnetic field experiments are the ideal way to gain insights into the matter that surrounds us.
Recently, a team from HMFL, Hefei Institutes of Physical Science (HFIPS), Chinese Academy of Sciences (CAS) successfully developed a large-bore high-field magnet HM2 (25T/Φ148mm), which can produce a 25T central magnetic field and serve as insert magnet for the hybrid magnet HM1.
"Except for the original bore dimension of Φ32mm, we have a new option with Φ148mm bore for HM2," said Prof. CHEN Wenge, who is a member of team.
The team has been devoted to develop the large-bore magnet technologies for the future experimental facility with integrated optics and high magnetic field for years. The new HM2 magnet extends the experimental environments with Steady High Magnetic Field Facility (SHMFF), providing the world's unique high-field in large bore for the researches in new organic superconductors, material growth and modification, next-generation practical high-temperature superconducting materials, and other frontier basic scientific research or applied basic scientific research.
This work was supported by the Key Technology Pre-research Project Of The High Optical and Magnetic Integrated Experimental Facility, Hefei Comprehensive National Science Center.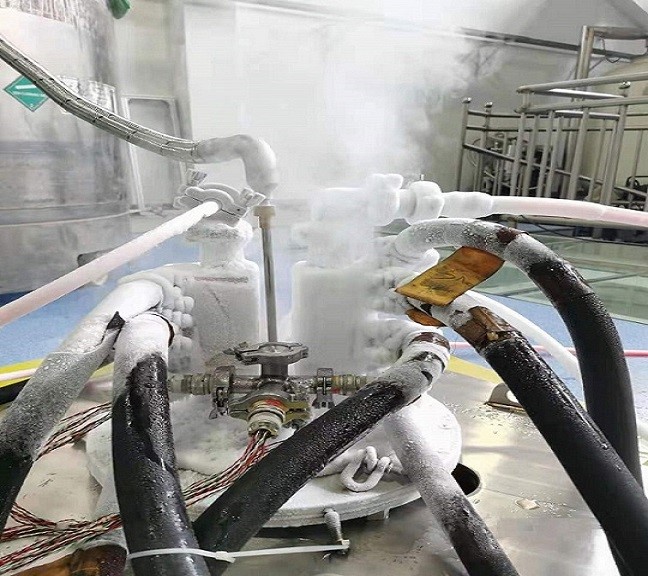 Researches conducted on the newly developed equipment-large-bore high-field magnet HM2 (Image by ZHANG Jun)
Contact:
ZHAO Weiwei
Hefei Institutes of Physical Science (http://english.hf.cas.cn/)
Email: annyzhao@ipp.ac.cn