Recently, a series of researches carried by Prof. ZHANG Xin's team from High Magnetic Field Laboratory, Hefei Institutes of Physical Science (HFIPS), Chinese Academy of Sciences (CAS), tested the biosafety and neurobehavioral effects of the high static magnetic field (SMF) up to 33.0 T using the self-designed biology research platform at Steady High Magnetic Field Facility (SHMFF).
They reported the biosafety of SMF at 30 T level and neurobehavioral effects of SMF at 20 T and 30 T levels on healthy mice for the first time in the Journal of Magnetic Resonance Imaging and European Radiology. So far, the research has been commented by experts on two editorial articles.
In recent years, ultra-high field magnetic resonance imaging (MRI) has been rapidly developed due to its significant advantages of high imaging resolution. 7 T MRI has been clinically approved, and 21.1 T MRI has also been successfully used in rodent experiments. However, the study about the biosafety of high magnetic field above 20 T is still very lacking, and the related research above 30 T is in the blank.
Based on the previous study on the biological safety of the 3.5-23.0 T SMFs, ZHANG Xin's research group further increased the magnetic field strength and shortened the exposure time, and used healthy C57BL/6J mice exposed to 7.0-33.0 T SMF for 1 hour. After exposure, all mice were routinely fed for another 2 months. No serious effects on complete blood count, organ coefficient or histomorphology of major organs were found, except for a few metabolic and hepatorenal function indicators, which were affected by some magnetic conditions, but most of them were still within normal reference range.
Meanwhile, behavioral test results revealed that high SMF could relieve anxiety, and improve sociality and spatial memory of mice within 2 months after exposure. The improved neurocognitive effect was also observed in behavioral studies of healthy mice exposed to 3.5-23.0 T magnetic field for 2 hours, which may be associated with increased calcium/calmodulin-dependent protein kinase II (CaMKII) expression in the mouse hippocampus. ZHANG's group further found that 7 T SMF can effectively alleviate the symptoms of depressed model mice. These results not only provide useful safety information for the development of ultra-high MRI, but may also indicate high SMFs have the potential to be developed as anti-depression treatment modalities in the future.
Dr. Hideto Kuribayashi of Siemens Healthcare K.K. in Japan, and Arif Kamil Salihoglu of Karadeniz Technical University in Turkey published two editorial articles commenting on these researches.
The biosafety of 7.0-33.0 T SMF (JMRI 2021a) and the neurobehavioral effects of antidepressant effects (JMRI 2021b) were done by Dr. TIAN Xiaofei, and doctoral student LV Yue. The behavioral study of 3.5-23.0 T SMF (European Radiology 2022) was carried out by the ZHANG Xin group, XUE Tian group of the University of Science and Technology of China and Dr. BAO Jin of Shenzhen Institute of Advanced Research, Chinese Academy of Sciences. No. 5 (WM5) and No. 2 (WM2) water-cooled magnets in Steady High Magnetic Field Facility (SHMFF) were used in these studies. The project was supported by National Key Research & Development Program of Ministry of Science and Technology, National Natural Science Foundation of China, President's Fund of Hefei Institutes of Physical Science and other projects.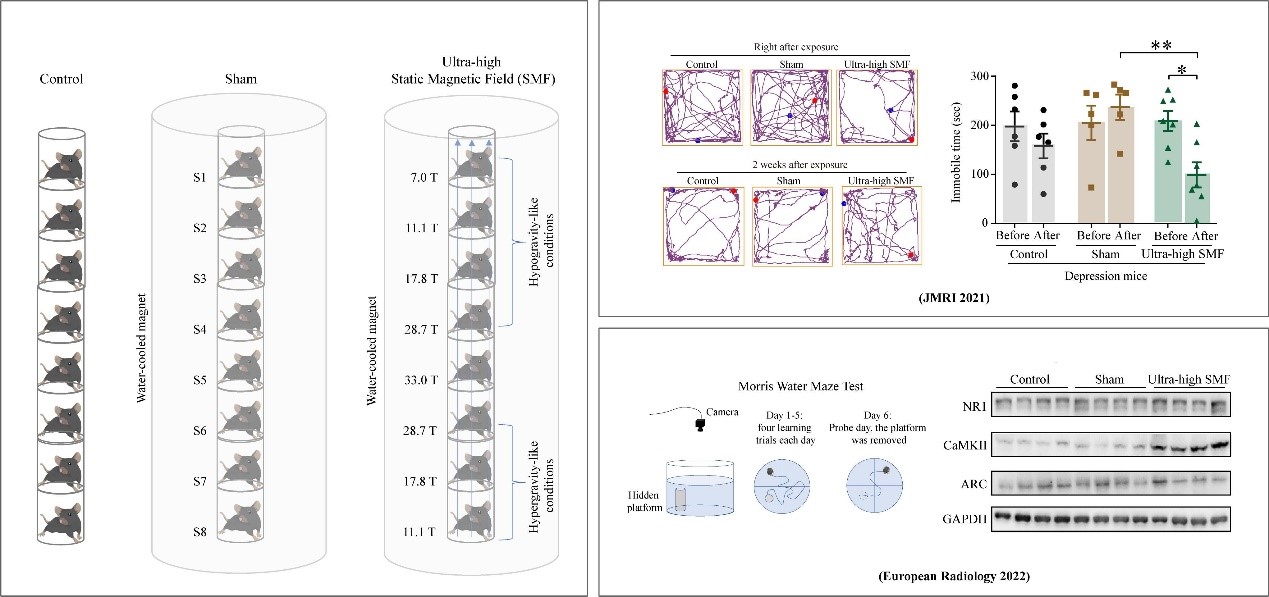 A series of animal experiments were carried out on SHMFF. (Image by LV Yue)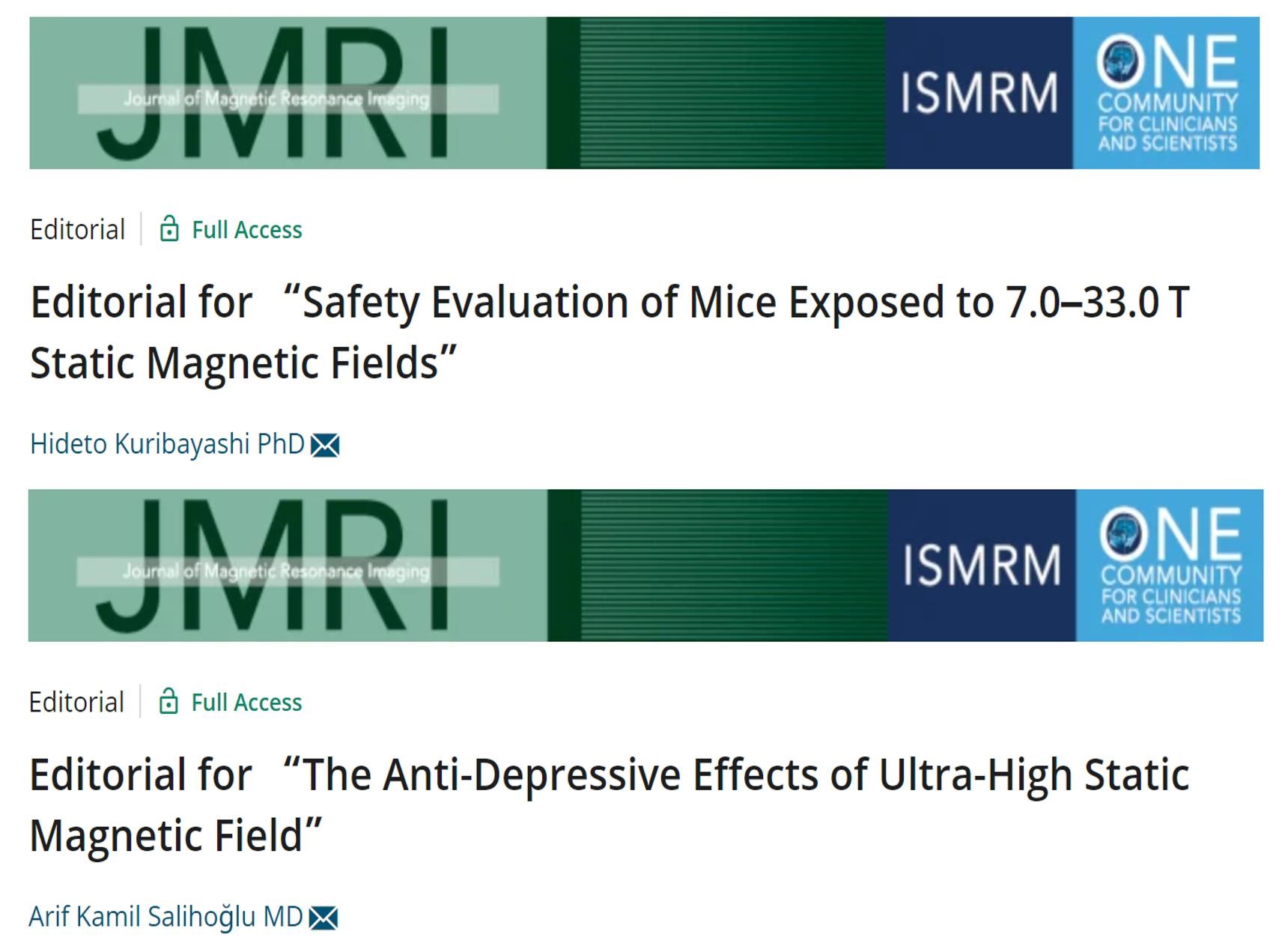 Two editorial articles commenting on these new findings by Dr. ZHANG's group. (Image by LV Yue)