A novel mobile nucleic acid analysis system, MS2 device, was developed by Anhui Institute of Optics and Fine Mechanics of Hefei Institutes of Physical Science (HFIPS), Chinese Academy of Sciences recently. This research results have been published as the cover article of Analyst.
The mobile sensing technology based on the integration of microfluidic devices and smartphones, namely MS2 technology, is an emerging and rapidly developing research field in recent years. By integrating complex detection accessories and application interfaces, MS2 realized shortened and simplified test. In recent years, the MS2 technology has shown great potential for various highlevel molecular diagnostic applications.
This time, the team applied the high-precision temperature control technology, multi-color fluorescence detection, rapid nucleic acid amplification, and reagent freeze-drying, aiming to control the whole process of nucleic acid analysis including temperature, imaging, data processing, and result analysis.
Besides, the MS2 device was compatible with multiplex PCR and isothermal amplification by selecting different microfluidic device. It showed performance consistent with that of traditional commercial equipment.
"We believe the MS2 device would provide an easy and integrated experimental platform for molecular diagnostic-related research and potential medical diagnostic applications," said YANG.
The project was supported by the Innovation Fund of Chinese Academy of Sciences, the Youth Innovation Promotion Association of Chinese Academy of Sciences, and the Key Research and Development Program of Anhui.
Link to the paper: MS2 device: smartphone-facilitated mobile nucleic acid analysis on microfluidic device
The research results have been accepted and published as the cover article of Analyst, a core journal in the microfluidic field. (Image by YANG Ke)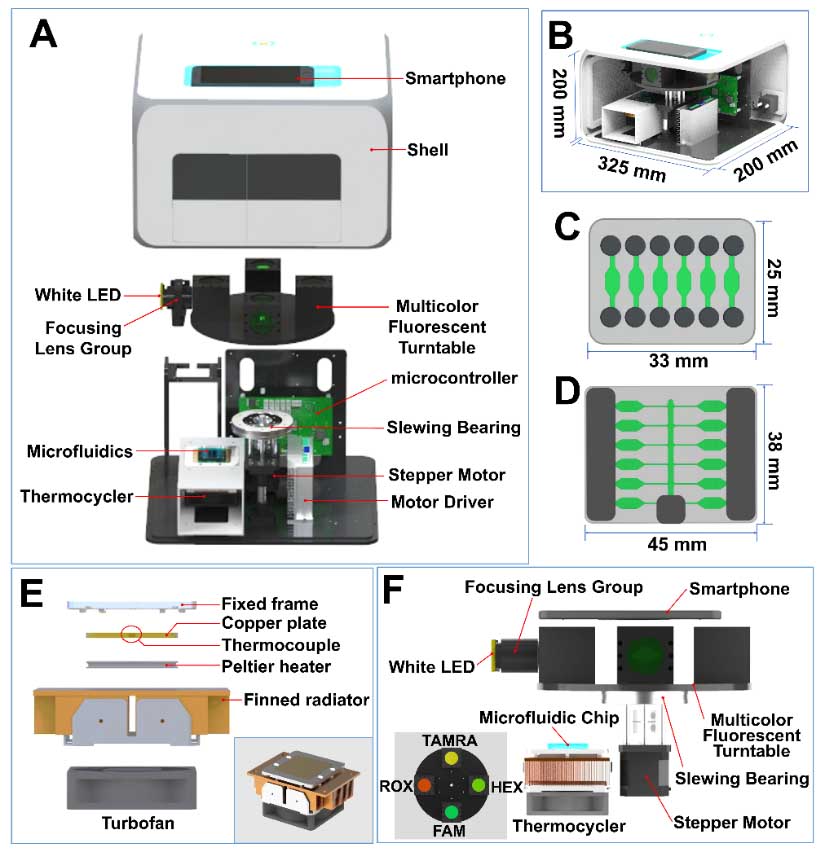 Illustration of the MS2 device. (A) Front view of the MS2 device. (B) Isoaxometric view of the MS2 device. (C) PCR chip. (D) Isothermal chip. (E) The 3D structure of the thermocycler. (F) The 3D structure of the multi fluorescence detection unit. (Image by YANG Ke)
Contact:
ZHAO Weiwei
Hefei Institutes of Physical Science (http://english.hf.cas.cn/)
Email: annyzhao@ipp.ac.cn