Air pollution is a common issue that come up for scientists around the world. And nitrogen dioxide (NO2) is not only a major primary pollutant in the atmosphere but also the key element in the tropospheric chemistry reactions that produce ground level ozone (O3). However, conventional sensors to measure ambient NO2 concentration have certain drawbacks, for example, they are slow (minutes-hours) and unselective to distinguish between NO and NO2 , particularly at low concentrations.
To tackle this problem, recently, joining hands with Prof. Frank Tittel at Rice University, Dr. LIU Kun from Prof. GAO Xiaoming's group at Anhui Institute of Optics and Fine Mechanics (AIOFM), Hefei Institutes of Physical Science completed the development and performance evaluation of a C based on faraday rotation spectroscopy (FRS).
Through exploiting magnetic circular birefringence (MCB) observed in the vicinity of Zeeman split absorption lines, FRS possesses advantages of high detection sensitivity, zero background as well as without influence of diamagnetic species, such as humidity and carbon dioxide.
The sensitivity of this new-developed FRS-based NO2 sensor was enhanced by inducing a compact multi-pass absorption cell which is widely used in tunable laser absorption spectroscopy, and an ultra-high sensitivity of 95 pptv for NO2 detection was achieved.
In addditon, This FRS-based NO2 sensor, the first time, was applied to field measurements of atmospheric NO2 for a long time. At the time, this sensor realizes remote access which enables real-time monitoring of the sensor performance from anywhere via internet, which was demonstrated by controlling the NO2 sensor located in Houston, TX from Hefei, China, ~10,000 miles from its location in the USA.
The study entitled Development of a mid-infrared nitrogen dioxide sensor based on Faraday rotation spectroscopy was published in Sensors and Actuators B: Chemical.
The work was supported by the National Natural Science Foundation of China and a US National Science Foundation (NSF) ERC MIRTHE award.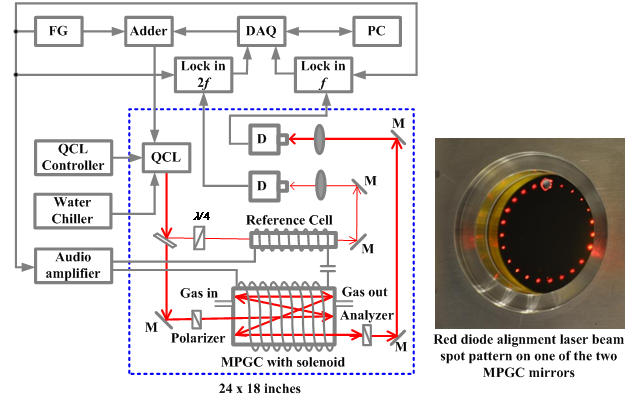 Schematic of the FRS based NO2 sensor (Image by LIU Kun)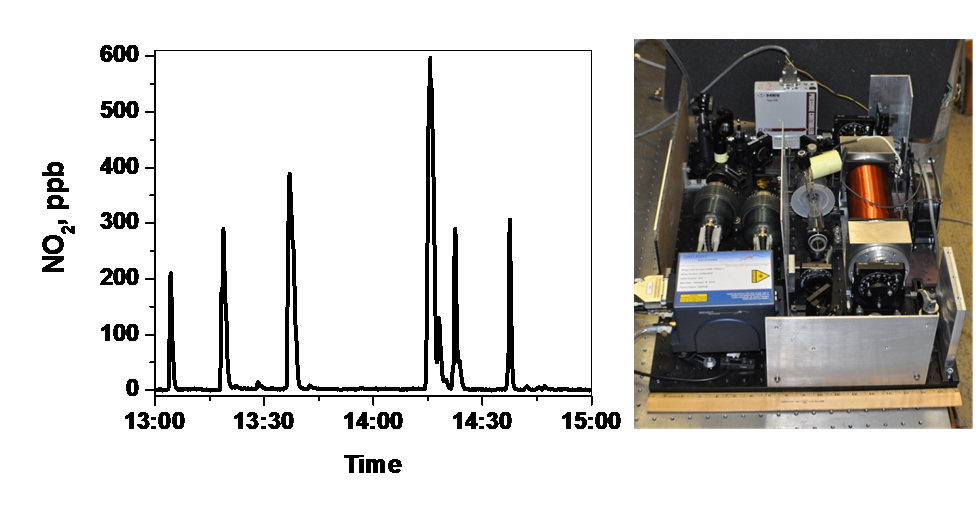 Episode of high concentration of NO2 observed during measurements (Image by LIU Kun)
Diurnal profiles of NO2 (a), (b) mean values of NO2 concentration levels during a field measurement campaign, and (c) O3 concentrations obtained during the measurement campaign (Image by LIU Kun).
Contact:
LIU Kun
Anhui Institute of Optics and Fine Mechanics (http://english.aiofm.cas.cn/)
Hefei 230031, Anhui, China
Tel: 86-551-65591019
E-mail: liukun@aiofm.ac.cn