In a paper published in the journal of Journal of Materials Chemistry C, a study team led by Prof. FANG Xiaodong at Anhui Institute of Optics and Fine Mechanics (AIOFM), Hefei Institutes of Physical Science, worked with Prof. MA Mingming's study team at School of Chemistry and Materials Science, University of Science and Technology of China(USTC) to fabricate a moisture-driven mini-tractor by incorporating superparamagnetic nanoparticles (SPIONs) into water-responsivepolypyrrole (PPy) films.
Designing soft actuators that obtain energy from the environment is important to realize sustainable, low-power-consumption actuators and electronic systems. Till now, a variety of soft actuators have actually been designed based on responsive polymers, which can obtain ambient energy and perform actions.
For these actuators, the control of their direction of motion is the key to make smart devices.
In their work, the PPy film doped with polyol is a kind a water-responsive polymer, which is sensitive to humidity change. Driven by moisture, the film can make continuous and random flipping motion.
Utilizing this feature, researchers design a soft moisture-driven mini-tractor by doping the SPIONs into PPy film to actively control the direction of motion.
As a result, external magnetic field can effectively control the motion direction of the film.
Besides, this soft actuator can effectively obtain ambient energy and transform them into kinetic energy as well as quickly transform cargos that is 5-times heavier than itself to the destination behaving as a powerful mini-tractor.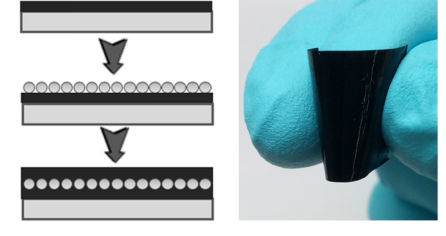 Schematic illustration and photograph of SPIONs-PPy film. (Image by GAO Fengxian)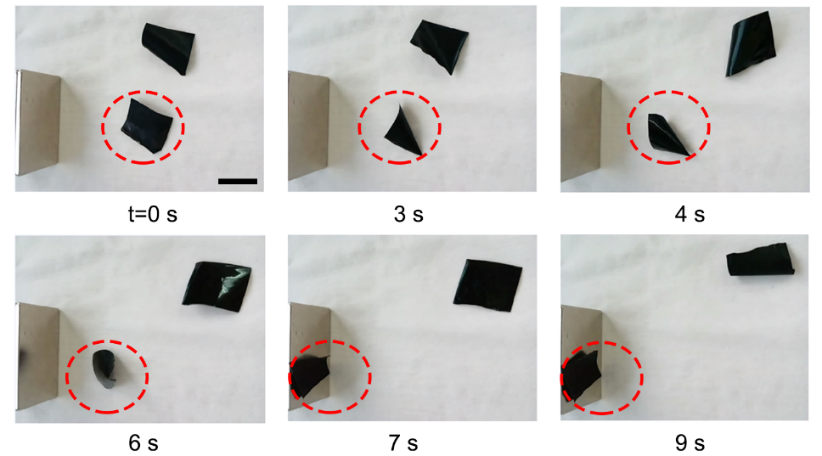 Directional motion of the SPIONs-PPy film on a 30°C wet substrate controlled by a static magnetic field. Snapshots o f a SPIONs-PPy film (indicated by red circle) moving towards a NdFeB magnet, and of a PPy film without SPIONs moving randomly. (Image by GAO Fengxian)

In fact, some polymers are also responsive to temperature.
In their previous work published in Nano Energy, FANG's team have designed a soft self-sustaining pyroelectric nanogenerator (PNG) based on another responsive polymer, polyvinylidene difluoride, which is a typical temperature-responsive polymer.
This PNG designed in 2016 is simply driven by hot water vapor without any energy-consuming alternating devices, so that it owns excellent power supply performance and is able to output an open-circuit voltage of 145 V which is comparable to previously reported PNGs relying on alternating devices.
As a soft energy converter, the self-sustaining PNGs driven by water vapor provides a new strategy to efficiently recover energy from hot water vapor that are wasted in industry and in our daily life.
These works are in part supported by the National Natural Science Foundation of China and the Natural Science Foundation of Anhui Province.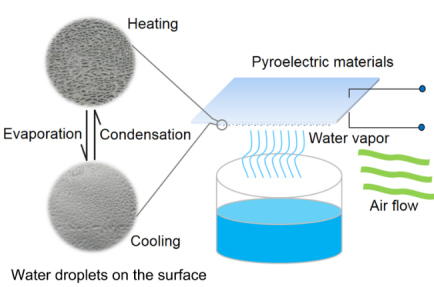 Schematic illustration of a water vapor-driven PNG. (Image by GAO Fengxian)
Link to the paper:1. Magnetically directed soft actuators driven by moisture
2. A self-sustaining pyroelectric nanogenerator driven by water vapor
Contact:
FANG Xiaodong
Anhui Institute of Optics and Fine Mechanics (http://english.aiofm.cas.cn/)
Tel: +86-551-65593661
E-mail: xdfang@aiofm.ac.cn